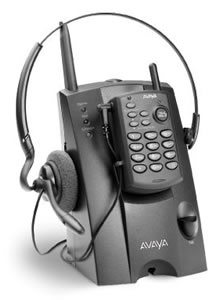 Back
Plantronics Avaya LKA10 Wireless Headset $349.95 $315.00
Manufacturer Discontinued
The Plantronics Avaya LKA10 is an innovative cordless headset system for Lucent and Avaya DEFINITY and Merlin phones. This unique hands-free solution allows users to take calls and make calls up to 150 feet from their desks with a full keypad on the pocket-size remote. The Avaya LKA10 includes a convertible headset that can be easily configured in an over-the-ear or over-the-head wearing style. Features 6-hours continuous talk time on rechargeable battery; mute with audible reminder; 10-number speed dial; redial and flash; 1-year warranty. (Please note that you cannot transfer calls or switch lines remotely. You would need to be back at your desk to press the appropriate buttons on your phone).
Key Features:
Cordless amplifier with headset
Base unit connects to Lucent/Avaya PBX deskset
Hands-free mobile design with range of up to 150 feet from the base unit
Remote unit includes dial pad
Direct connect to 64XX with headset port; otherwise, requires Plantronics HL10 lifter
Six-hour continuous talk time on rechargeable battery
COMPATIBILITY NOTES: Avaya/Lucent/AT&T 6416D+M and 6424D+M models connect directly into phone headset port; all other 6400-series, 7400-series and 8400-series phone models require a Plantronics HL10 handset lifter for remote answer/hang up capabilities.

Plantronics Avaya LKA10 User's Guide (PDF)
Plx Headset Tour Plx Headset Tops Plx Amplifiers Plx Cordless Plx Mobile Plx Computer Plx Bluetooth
Plx Polaris Plx Telephones Plx Cushions Hooks & Buds Plx Cords & Cables Plx Cordless Accessories
Plx Value Packs & Voice Tubes Smart Gang Charger Sennheiser Headset Tour Sennheiser Headset Tops
Sennheiser Amplifiers Sennheiser Cordless Sennheiser Bluetooth Sennheiser Computer
Sennheiser Accessories Starkey Headset Tour Starkey Headset Tops Starkey Amplifiers Starkey Bluetooth
Starkey Accessories GN Headset Tour GN Headset Tops GN Amplifiers GN Cordless GN Computer
GN Bluetooth GN Accessories Accutone Headset Tour Accutone Headset Tops Accutone Amplifiers
Accutone Mobile Accutone Accessories Accutone Compatibility Guide 9-1-1 Dispatch Headsets Aastra 480i
Aastra 9110 Aastra 9112i Aastra 9116 Aastra 9120 Aastra 9133i GE Cordless Phones Motorola Ojo
Panasonic Cordless Phones Polycom Audio Conferencing Polycom Accessories RCA Cordless Phones
Vodavi Starplus 2802 Walker Clarity Phones Identix Live Scan SyTech RIOS CamLite Model 1000
CamLite Accessories Trade Shows Returns & Policies Contact Us PrivacyHeadset Demo Program
History of Bluetooth 9-1-1 & VoIP Cordless Headset Shootout Emergency Charge System
Fire Sale Specials