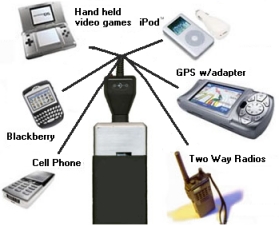 On the Go Emergency Charge System (ECS) $49.95 $45.00


This universal quality Battery Pack and Adapter uses 9 AA Batteries (Alkaline or Rechargeable). The Universal power pack accepts virtually all DC car charges. The Emergency Charge System allows you the freedom to charge your personal electronic devices anywhere. Field Tested: Up to 300 hours of useful charge time. (Standby/talk time results may vary). Made of: Heavy-duty, solid aluminum ECS, the high density plastic single enclosure unit. Warranty: 2 year limited warranty.

The ECS unit uses 9 AA batteries, available worldwide. The 9 batteries total 13 .5 volts, the same voltage as use in today's vehicles. On the Go, at the Airport or when the power goes out - you can stay connected! read more...