On the Go Emergency Charge System (ECS)
$49.95
$45.00
ESSENTIAL GEAR FOR REMOTE & EXTREME ADVENTURES
KEEP CELLPHONES AND ALL PERSONAL DEVICES CHARGED
WHEN ELECTRICITY IS UNAVAILABLE SIMPLE ATTACH 12V (CAR STYLE) ADAPTER TO THE HANDHELD POWER PACK, PLUG IN AND GO STAY CONNECTED 300 HOURS OF TALK/STANDBY TIME (Results may vary)
OUT DOOR ENTHUSIAST-CAMPERS-FISHMAN-HUNTERS BOATERS AND BIKERS
9 AA batteries included

Emergency Charge System Heavy Duty Battery Pack and Adapter

Never lose power again! No Electricity? No Problem!

When there is a natural disaster or emergency you can stay connected with the handheld light-weight Emergency Charge System! Keep cell phones and all personal devices charged when electricity fails. Simply plug in a vehicle power adapter to ECS!

This universal quality Battery Pack and Adapter uses 9 AA Batteries (Alkaline or Rechargeable). The Universal power pack accepts virtually all DC car charges. The Emergency Charge System allows you the freedom to charge your personal electronic devices anywhere.

On the Go, at the Airport or when the power goes out - you can stay connected!

The Emergency Charge System is perfect for: Emergency Workers, Security Personnel, Public Safety, Emergency Kits, Campers and Hikers, Marine Safety, Outdoor Wilderness, and Pilots.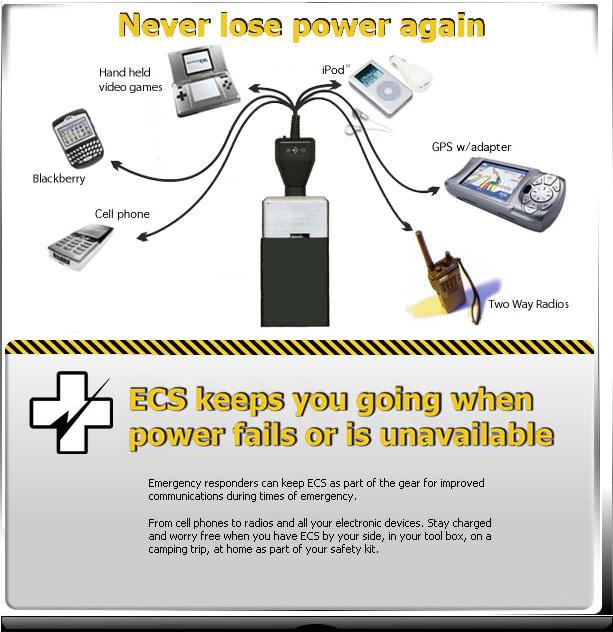 Specifications:
Connects to: Cell Phones, GPS, Hand Held Video Games
Portable DVD and CD Players
Portable Vacuum, and Walkie Talkies
Weight: 10.125oz. without Batteries. 17.5oz. with
Batteries: Holds 9 Size AA, included
Voltage: Rechargeable: 10.8 (9AA 1.2v each) 12.1 to 15.1v
Alkaline: 13.5v (9AA 1.5v each) 14.1 to 17.3v
Field Tested: Up to 300 hours of useful charge time. (Standby/talk time results may vary).
Made of: Heavy-duty, solid aluminum ECS, the high density plastic single enclosure unit.
Warranty: 2 year limited warranty.

The ECS unit uses 9 AA batteries, available worldwide. The 9 batteries total 13 .5 volts, the same voltage as use in today's vehicles.

Personal electronic devices can be charged on the go. Professionals and the every day consumer can use the ECS adapter and power pack. The universal power port allows a multitude of electronic devices to connect to the Emergency Charge System. With the portable electronic devices in the millions, the ECS will become an essential addition to emergency or survival kits, whether at home or in the workspace.

This product was field tested in Mississippi, Louisiana, Florida and Texas. The Emergency Charge System is a must for public safety personnel and first responders.

Also great for hikers, campers, fishermen, boaters, bikers and all extreme adventure enthusiasts.






Plx Headset Tour Plx Headset Tops Plx Amplifiers Plx Cordless Plx Mobile Plx Computer Plx Bluetooth
Plx Polaris Plx Telephones Plx Cushions Hooks & Buds Plx Cords & Cables Plx Cordless Accessories
Plx Value Packs & Voice Tubes Smart Gang Charger Sennheiser Headset Tour Sennheiser Headset Tops
Sennheiser Amplifiers Sennheiser Cordless Sennheiser Bluetooth Sennheiser Computer
Sennheiser Accessories Starkey Headset Tour Starkey Headset Tops Starkey Amplifiers Starkey Bluetooth
Starkey Accessories GN Headset Tour GN Headset Tops GN Amplifiers GN Cordless GN Computer
GN Bluetooth GN Accessories Accutone Headset Tour Accutone Headset Tops Accutone Amplifiers
Accutone Mobile Accutone Accessories Accutone Compatibility Guide 9-1-1 Dispatch Headsets Aastra 480i
Aastra 9110 Aastra 9112i Aastra 9116 Aastra 9120 Aastra 9133i GE Cordless Phones Motorola Ojo
Panasonic Cordless Phones Polycom Audio Conferencing Polycom Accessories RCA Cordless Phones
Vodavi Starplus 2802 Walker Clarity Phones Identix Live Scan SyTech RIOS CamLite Model 1000
CamLite Accessories Trade Shows Returns & Policies Contact Us PrivacyHeadset Demo Program
History of Bluetooth 9-1-1 & VoIP Cordless Headset Shootout Emergency Charge System
Fire Sale Specials Aviation Headsets How to Recycle Electronic Items