How To Recycle Electronic Items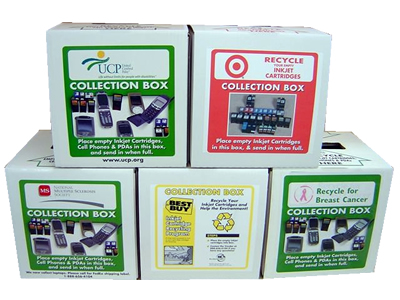 Don't throw your electronic items in the trash. Help our planet and recycle your electronic items.
Our growing dependence on electronics items both at home and in the workplace has given rise to a new environmental challenge: electronic waste. A recent study by the U.S. EPA shows that electronics already make up approximately 1 percent on the municipal solid waste stream. Research indicates that electronic waste is growing at three times the rate of other municipal waste.
According to the U.S. EPA, over 20 million personal computers became obsolete in 1998 and only 13% were reused or recycled.
Electronic items like circuit boards, batteries, and color cathode ray tubes (CRTs) can contain hazardous materials such as lead, mercury and hexavalent chromium. If improperly handled or disposed, these toxins can be released into the environment through landfill leachate or incinerator ash.
In just one year, over 112 million pounds of valuable materials were recovered from disposed electronics for recycling and reuse. Materials includes steel, glass, plastic and precious metals
Electronic items and electrical products surround us — from computers, televisions and stereo equipment, to small appliances like irons and cellular phones. Huge numbers of these products wear out or become obsolete, creating a challenge for their safe disposal.

With electronic waste growing by the day, the consequences of its remnants are beginning to take their toll. Please do your part and recycle your unwanted electronic devices.

ADCOM/BHS is proud to recycle your unwanted electronic items free of charge, you can send your old electronic items to:

ADCOM/BHS - Recycle Dept.
6600 Hwy 9
Felton, CA 95018

---
ADCOM/BHS is interested in the following Electronic Scrap:
Old Main Frame Computers
Old Personal Computers
Circuit Boards
Power Supplies
Cables
Hard Drives
Floppy Drives
CD ROM Drives
Tape Drives
Monitors
Keyboards
Network Equipment
Old Telecommunication Equipment
Electronic Components
Transformers
Assemblies and Sub-Assemblies
Motors
FAQ's
Q: What do you charge for electronic scrap, CRT or monitor disposal?
A: No charge for electronic disposal if delivered to our facility.
Q: What happens to the systems once you receive them?
A: All materials are separated by type (plastics, metals, circuit boards,) then sent to domestic processors who specialize in those commodities.
Q: What happens to the CRT/Monitor?
A: We separate the plastics and electronics from the tube and send the tube to a domestic certified lead smelter for processing.
Q: Does any part of the computer end up in the landfill?
A: No.