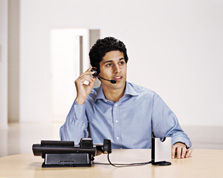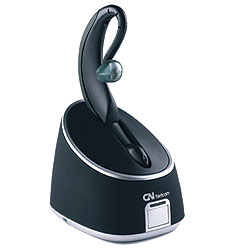 Back

GN Netcom GN 6210 Bluetooth Wireless Headset System $249.00 $188.36
DISCONTINUED

TheGN Netcom GN 6210 Bluetooth Wireless Headset System brings the form and style of a mobile headset into the office by featuring a unique, behind-the-ear wearing style. Its contoured shape, complete with the patented MiniGel™ eartip, guarantees your comfort even with extended use. And the GN 6210's microphone ensures your caller's voice is clear. Freedom to move, multi-task and work smarter is all yours with the headset's 33 ft range and up to 8-hours of talk time.

But we didn't forget about your mobile lifestyle. The clever GN 6210 works wherever you work — in the office or on the move. With proprietary software, the headset is able to maintain a paired relationship with two phones – your office desk phone and your Bluetooth-enabled mobile phone. Using its ingenious GN Link™ technology, the GN 6210 identifies which phone is ringing and connects to it, giving you calling convenience like never ever before!

GN 6210 Features:
Up to 8 hours of talk time, and Bluetooth 10 meter/ 33 ft range
Truly wireless headset for anywhere inside and outside the office
Seamlessly works with any standard desk phone & Bluetooth mobile phone

Noise-filtering microphone. The right choice if you work in an environment where there's occasional noise.
Plx Headset Tour Plx Headset Tops Plx Amplifiers Plx Cordless Plx Mobile Plx Computer Plx Bluetooth
Plx Polaris Plx Telephones Plx Cushions Hooks & Buds Plx Cords & Cables Plx Cordless Accessories
Plx Value Packs & Voice Tubes Smart Gang Charger Sennheiser Headset Tour Sennheiser Headset Tops
Sennheiser Amplifiers Sennheiser Cordless Sennheiser Bluetooth Sennheiser Computer
Sennheiser Accessories Starkey Headset Tour Starkey Headset Tops Starkey Amplifiers Starkey Bluetooth
Starkey Accessories GN Headset Tour GN Headset Tops GN Amplifiers GN Cordless GN Computer
GN Bluetooth GN Accessories Accutone Headset Tour Accutone Headset Tops Accutone Amplifiers
Accutone Mobile Accutone Accessories Accutone Compatibility Guide 9-1-1 Dispatch Headsets Aastra 480i
Aastra 9110 Aastra 9112i Aastra 9116 Aastra 9120 Aastra 9133i GE Cordless Phones Motorola Ojo
Panasonic Cordless Phones Polycom Audio Conferencing Polycom Accessories RCA Cordless Phones
Vodavi Starplus 2802 Walker Clarity Phones Identix Live Scan SyTech RIOS CamLite Model 1000
CamLite Accessories Trade Shows Returns & Policies Contact Us PrivacyHeadset Demo Program
History of Bluetooth 9-1-1 & VoIP Cordless Headset Shootout Emergency Charge System
Fire Sale Specials Aviation Headsets How to Recycle Electronic Items