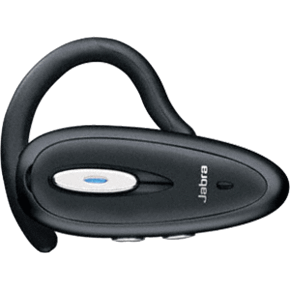 Back

Jabra BT150 Bluetooth Headset $55.00
Manufacturer Discontinued

Now there's nothing to stop you! The Jabra BT150 is a convenient wireless headset that gives you the freedom you need for a modern lifestyle. This comfortable, compact headset can be paired up instantly with your Bluetooth mobile phone, so you too can start enjoying life hands-free!

If it's looking good that's held you back, Jabra now gives you the benefits of all its Bluetooth expertise in this small and funky headset designed for style.

Rugged and durable, the Jabra BT150 is built with comfort and convenience in mind. Whether you're walking, running, driving or out in town, it'll stay firmly put on either ear.

With up to 6 hours talk time and up to 110 hours standby, the Jabra BT150 will keep going as long as you do. Unleash your mobile lifestyle. Release your Jabra.
Answer/end call
Up to 6 hours talk time and up to 110 hours standby
Multi-colored LEDs for status on Bluetooth, battery and charging
Weighs only 0.56 ounces (16 g)
Bluetooth version 1.2 supporting headset and hands-free profile

Jabra BT150 Manual (PDF)

Download Adobe® Reader® to view PDFs.






Plx Headset Tour Plx Headset Tops Plx Amplifiers Plx Cordless Plx Mobile Plx Computer Plx Bluetooth
Plx Polaris Plx Telephones Plx Cushions Hooks & Buds Plx Cords & Cables Plx Cordless Accessories
Plx Value Packs & Voice Tubes Smart Gang Charger Sennheiser Headset Tour Sennheiser Headset Tops
Sennheiser Amplifiers Sennheiser Cordless Sennheiser Bluetooth Sennheiser Computer
Sennheiser Accessories Starkey Headset Tour Starkey Headset Tops Starkey Amplifiers Starkey Bluetooth
Starkey Accessories GN Headset Tour GN Headset Tops GN Amplifiers GN Cordless GN Computer
GN Bluetooth GN Accessories Accutone Headset Tour Accutone Headset Tops Accutone Amplifiers
Accutone Mobile Accutone Accessories Accutone Compatibility Guide 9-1-1 Dispatch Headsets Aastra 480i
Aastra 9110 Aastra 9112i Aastra 9116 Aastra 9120 Aastra 9133i GE Cordless Phones Motorola Ojo
Panasonic Cordless Phones Polycom Audio Conferencing Polycom Accessories RCA Cordless Phones
Vodavi Starplus 2802 Walker Clarity Phones Identix Live Scan SyTech RIOS CamLite Model 1000
CamLite Accessories Trade Shows Returns & Policies Contact Us PrivacyHeadset Demo Program
History of Bluetooth 9-1-1 & VoIP Cordless Headset Shootout Emergency Charge System
Fire Sale Specials Aviation Headsets How to Recycle Electronic Items