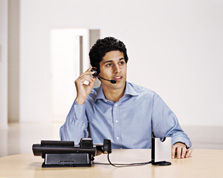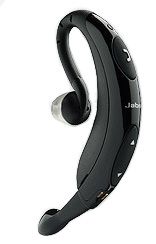 Back

Jabra BT250v Bluetooth Headset $64.00
Manufacturer Discontinued

The BT250v Bluetooth headset builds on the award-winning design of the BT250 and comes in a sleek black look to stand out whatever the occasion. Features silent vibrating call alert, up to 10 hrs talk time/300 hrs standby, and single button control for voice dialing, call answer/end, and more.

Jabra BT250v Bluetooth Wireless Headset
Silent, vibrating call alert — Incoming calls are signaled by a silent vibrating call alert — perfect for your pocket or purse.
Range up to 30 feet — Roam freely up to 30 feet away from your cell phone while calls are transmitted wirelessly to your earpiece.
7-Hour talk time, 200-hour standby — Rechargeable lithium polymer battery provides extensive talk and standby time.
Convenient, fingertip controls — A single button gives you control of your phone up to 30 feet away – voice dialing, call answer/end, redial and call transfer are all at the touch of a button.
Unique, lightweight design — Soft elastomer body and contoured shape fits securely and ergonomically behind the ear. Weighs less than 1 ounce.
Superior audio quality — Sound-absorbing material reduces distortion while the uni-directional microphone amplifies your voice and reduces background noise.
Charging cradle — Doubles as a headset holder and includes a snap-on clip to attach the earpiece to your belt or purse when not in use.
Jabra MiniGels™
Soft, ergonomic gel tip channels sound directly into the ear.
Delivers superior comfort, clarity, and reception.
Pivots for use in either ear.
Removable and washable.

Jabra BT250v Manual (PDF)

Download Adobe® Reader® to view PDFs.






Plx Headset Tour Plx Headset Tops Plx Amplifiers Plx Cordless Plx Mobile Plx Computer Plx Bluetooth
Plx Polaris Plx Telephones Plx Cushions Hooks & Buds Plx Cords & Cables Plx Cordless Accessories
Plx Value Packs & Voice Tubes Smart Gang Charger Sennheiser Headset Tour Sennheiser Headset Tops
Sennheiser Amplifiers Sennheiser Cordless Sennheiser Bluetooth Sennheiser Computer
Sennheiser Accessories Starkey Headset Tour Starkey Headset Tops Starkey Amplifiers Starkey Bluetooth
Starkey Accessories GN Headset Tour GN Headset Tops GN Amplifiers GN Cordless GN Computer
GN Bluetooth GN Accessories Accutone Headset Tour Accutone Headset Tops Accutone Amplifiers
Accutone Mobile Accutone Accessories Accutone Compatibility Guide 9-1-1 Dispatch Headsets Aastra 480i
Aastra 9110 Aastra 9112i Aastra 9116 Aastra 9120 Aastra 9133i GE Cordless Phones Motorola Ojo
Panasonic Cordless Phones Polycom Audio Conferencing Polycom Accessories RCA Cordless Phones
Vodavi Starplus 2802 Walker Clarity Phones Identix Live Scan SyTech RIOS CamLite Model 1000
CamLite Accessories Trade Shows Returns & Policies Contact Us PrivacyHeadset Demo Program
History of Bluetooth 9-1-1 & VoIP Cordless Headset Shootout Emergency Charge System
Fire Sale Specials Aviation Headsets How to Recycle Electronic Items