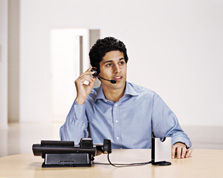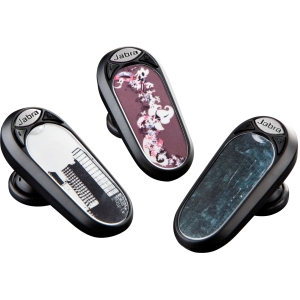 Back

Jabra BT3010 Bluetooth Headset $55.00


However you are feeling, you'll find a headset style to match your mood. Wild, sporty, elegant, fruity, scary or just plain gorgeous, the Jabra BT3010 has a look to match. Communicate in the style that's right for you, and when you change your mind, simply change your style. Includes: 33 changeable faceplate insert designs or create your own design insert at www.jabra.com.

Only your imagination sets the limits
Just think – what if you had a headset that matched your outfit one day and your mood the next? Or looked like the feathers on your pet parrot? What about one with your name on it? Or your picture? Why put up with the same design every day, when you can create your own? Now, Jabra lets you customize your own covers – and only your imagination sets the limits.

Change into Jabra
Jabra BT3010 is DESIGNED BY YOU. This small Bluetooth headset comes with 33 creative cover designs – including several designed by Jabra users. What's more, you can create endless new versions at jabra.com. In short, the Jabra BT3010 not only gives you the freedom to change things the way things look, it also changes your view of hands-free communication.

More than looks
The new Jabra BT3010 is much more than an innovative design system. With its discreet earpiece and optional ear hook, you'll enjoy great stability and a secure fit. On top of that, you get up to eight hours of talk time and the uncompromised quality of a Jabra headset.

Jabra BT3010 Manual (PDF)

Download Adobe® Reader® to view PDFs.




Plx Headset Tour Plx Headset Tops Plx Amplifiers Plx Cordless Plx Mobile Plx Computer Plx Bluetooth
Plx Polaris Plx Telephones Plx Cushions Hooks & Buds Plx Cords & Cables Plx Cordless Accessories
Plx Value Packs & Voice Tubes Smart Gang Charger Sennheiser Headset Tour Sennheiser Headset Tops
Sennheiser Amplifiers Sennheiser Cordless Sennheiser Bluetooth Sennheiser Computer
Sennheiser Accessories Starkey Headset Tour Starkey Headset Tops Starkey Amplifiers Starkey Bluetooth
Starkey Accessories GN Headset Tour GN Headset Tops GN Amplifiers GN Cordless GN Computer
GN Bluetooth GN Accessories Accutone Headset Tour Accutone Headset Tops Accutone Amplifiers
Accutone Mobile Accutone Accessories Accutone Compatibility Guide 9-1-1 Dispatch Headsets Aastra 480i
Aastra 9110 Aastra 9112i Aastra 9116 Aastra 9120 Aastra 9133i GE Cordless Phones Motorola Ojo
Panasonic Cordless Phones Polycom Audio Conferencing Polycom Accessories RCA Cordless Phones
Vodavi Starplus 2802 Walker Clarity Phones Identix Live Scan SyTech RIOS CamLite Model 1000
CamLite Accessories Trade Shows Returns & Policies Contact Us PrivacyHeadset Demo Program
History of Bluetooth 9-1-1 & VoIP Cordless Headset Shootout Emergency Charge System
Fire Sale Specials Aviation Headsets How to Recycle Electronic Items