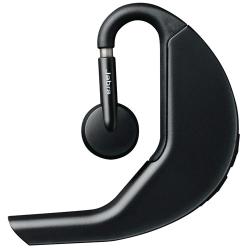 Back

Jabra BT5020 Bluetooth Headset
Manufacturer Discontinued

The small, slender Jabra BT5020 offers you a dream combination of optimum comfort and discretion, as well as wind-noise reduction, up to 10 hours of talk time, and a 33-foot wireless range, all in one exquisitely designed Bluetooth® cell phone headset!

The Jabra BT5020 is so slim and discreet, those around you will hardly notice it… and so comfortable, you may even forget to take it off when you go to bed! Getting it up and running with your cell phone is a snap, too, with its one-touch pairing button. Need to be heard in windy outdoor conditions? The Jabra BT5020's advanced wind-noise reduction keeps you coming through loud and clear. Also features vibrating and visual alerts that allow you to stay in touch even in quiet mode, and a colored LED status indicator for Bluetooth, battery, incoming calls, and charging. The Jabra BT5020 also supports such phone-dependent calling features as voice dialing, last-number redial, call waiting, and hold. You can even charge it from your PC with the included USB cable!

This light, comfortable cell phone headset is heavy on must-have features…

Discreet, comfortable design — sports a subtle black matte finish and curves neatly behind your ear for a barely noticeable look. Flexible, reversible earhook adjusts for a custom fit and can be modified for wear on either ear.

Slender, compact, and lightweight — weighs less than 1 ounce and measures just 3 inches long for all-day comfort.

Superior sound quality — lets you hear and be heard clearly; optimizes voice pick-up in adverse conditions with built-in advanced wind-noise reduction technology.

Up to 10 hours of talk time — and 300 hours of stand-by on a single battery charge.

Up to 33-foot wireless range — allows you to talk and roam with both hands free.

Bluetooth v2.0 compatible — ensures faster connections, longer talk time, and improved call quality due to increased bandwidth. Supports Bluetooth headset and hands-free profiles.

Colored LED indicator — shows you the status of Bluetooth, battery, incoming calls, and charging at a glance.

USB cable — allows you to charge your headset from your PC.

Supported phone-dependent features — include reject calls, voice dialing, last-number redial, call waiting, and hold.

One-touch pairing button — makes pairing to your Bluetooth cell phone fast and easy.

Jabra BT5020 Manual (PDF)

Download Adobe® Reader® to view PDFs.




Plx Headset Tour Plx Headset Tops Plx Amplifiers Plx Cordless Plx Mobile Plx Computer Plx Bluetooth
Plx Polaris Plx Telephones Plx Cushions Hooks & Buds Plx Cords & Cables Plx Cordless Accessories
Plx Value Packs & Voice Tubes Smart Gang Charger Sennheiser Headset Tour Sennheiser Headset Tops
Sennheiser Amplifiers Sennheiser Cordless Sennheiser Bluetooth Sennheiser Computer
Sennheiser Accessories Starkey Headset Tour Starkey Headset Tops Starkey Amplifiers Starkey Bluetooth
Starkey Accessories GN Headset Tour GN Headset Tops GN Amplifiers GN Cordless GN Computer
GN Bluetooth GN Accessories Accutone Headset Tour Accutone Headset Tops Accutone Amplifiers
Accutone Mobile Accutone Accessories Accutone Compatibility Guide 9-1-1 Dispatch Headsets Aastra 480i
Aastra 9110 Aastra 9112i Aastra 9116 Aastra 9120 Aastra 9133i GE Cordless Phones Motorola Ojo
Panasonic Cordless Phones Polycom Audio Conferencing Polycom Accessories RCA Cordless Phones
Vodavi Starplus 2802 Walker Clarity Phones Identix Live Scan SyTech RIOS CamLite Model 1000
CamLite Accessories Trade Shows Returns & Policies Contact Us PrivacyHeadset Demo Program
History of Bluetooth 9-1-1 & VoIP Cordless Headset Shootout Emergency Charge System
Fire Sale Specials Aviation Headsets How to Recycle Electronic Items