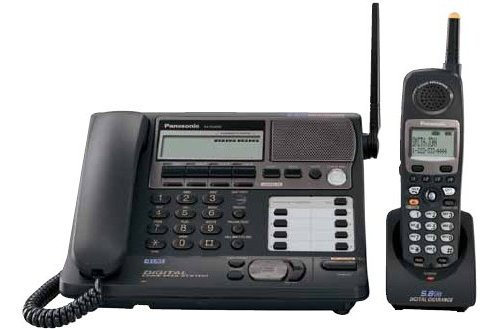 Back

Panasonic KX-TG4500B Manufacturer Discontinued
5.8GHz 4-Line Expandable Cordless Telephone *$464.95



*Prices subject to change without notice
Ideal for growing businesses, the Wi-Fi compatible Panasonic 4-line 5.8 GHz Expandable Cordless Phone System supports up to 8 cordless handsets & includes Caller ID, a 100-minute digital voicemail system with auto-attendant, & 8 individual voicemail boxes!
This extraordinary Panasonic cordless system was made for small businesses like yours that want high-end business phone system features without the high-end price. It's all here… from an advanced voicemail system and FHSS digital performance to such key business features as conferencing, duplex base speakerphone, paging/intercom, hold, and memory & dialer functions. All that's missing is the need for expensive wiring and installation!
Just look at the benefits!
5.8 GHz Frequency-Hopping Spread Spectrum technology — offers impressive clarity, security, and long range; plus, it won't interfere with wireless networks.
4-Line operation — makes it easier to manage and expand your small business communications.
100-Minute all-digital voicemail system — provides fast, easy message retrieval and up to 8 individual voice mailboxes (1 per handset). Features include pre-recorded outgoing message, remote operation with voice prompts, time/date stamp, call and message transfer, and flash memory message storage in case of power failure.
Auto-attendant — lets you set the voicemail system to automatically answer all incoming calls with a recorded greeting and to route callers to their desired extensions or mailboxes.
Expandable to 8 handsets — allows you to place expansion handsets wherever you need them most. Accepts up to 7 expansion handsets (sold separately, Item #21564) in addition to the 1 handset supplied. Simply plug into any standard outlet!
100-Name phonebook & dialer — lets you save your 100 most frequently dialed names and numbers in an alphabetical directory in the base for easy redial. Store an additional 50 names and numbers on each handset.
Call Waiting/Caller ID — displays the name and number of incoming callers, even if you're on another call. Caller ID Memory & Dialer feature allows you to store up to 50 names and numbers in the base unit memory and up to 30 in each handset for easy retrieval and direct callback.
3-Way conferencing — allows you to conference up to 3 participants among the base, handsets, and outside lines.
Headset jack — provides a built-in 2.5 mm headset jack for private, hands-free conversation.
Use of Caller ID features requires a subscription to Caller ID services.

Panasonic KX-TG4500B Manual (PDF)
Product Specification

---
| | |
| --- | --- |
| # of Lines | 4 |
| Frequency | 5.8 GHz with FHSS |
| Service option | Caller ID, Call Waiting, 3-Way Calling |
| Voicemail Indicator | Yes |
| Speakerphone | Base and Handset Speakerphones |
| Display | 3-Line Backlit LCD |
| Answering Machine | Digital Answerer |
| System | Expandable to 8 Handsets |
| # of handsets | 2 |
| # of stored names | 100 |
| Colors | Black |
| Data Port | No |
| Headset Jack | Yes, 2.5mm plug |
| Hearing Aid Compatible | Yes |
| Multi-Language | Yes, English or Spanish |
| Speed Dial numbers | 10 |
| Wall Mountable | Yes |
| Warranty | 1 Year |
Companion Products
| | |
| --- | --- |
| | Click on the image to the left to see compatible Plantronics Headsets |
Plx Headset Tour
Plx Headset Tops
Plx Amplifiers
Plx Cordless
Plx Mobile
Plx Computer
Plx Bluetooth
Plx Polaris
Plx Telephones
Plx Cushions Hooks & Buds
Plx Cords & Cables
Plx Cordless Accessories
Plx Value Packs & Voice Tubes
Smart Gang Charger
Sennheiser Headset Tour
Sennheiser Headset Tops
Sennheiser Amplifiers
Sennheiser Cordless
Sennheiser Bluetooth
Sennheiser Computer
Sennheiser Accessories
Starkey Headset Tour
Starkey Headset Tops
Starkey Amplifiers
Starkey Bluetooth
Starkey Accessories
GN Headset Tour
GN Headset Tops
GN Amplifiers
GN Cordless
GN Computer
GN Bluetooth
GN Accessories
Accutone Headset Tour
Accutone Headset Tops
Accutone Amplifiers
Accutone Mobile
Accutone Accessories
Accutone Compatibility Guide
9-1-1 Dispatch Headsets
Aastra 480i
Aastra 9110
Aastra 9112i
Aastra 9116
Aastra 9120
Aastra 9133i
GE Cordless Phones
Motorola Ojo
Panasonic Cordless Phones
Polycom Audio Conferencing
Polycom Accessories
RCA Cordless Phones
Vodavi Starplus 2802
Walker Clarity Phones
Identix Live Scan
SyTech RIOS
CamLite Model 1000
CamLite Accessories
Trade Shows
Returns & Policies
Contact Us
Privacy
Headset Demo Program
History of Bluetooth
9-1-1 & VoIP
Cordless Headset Shootout
Emergency Charge System
Fire Sale Specials
Aviation Headsets
How to Recycle Electronic Items