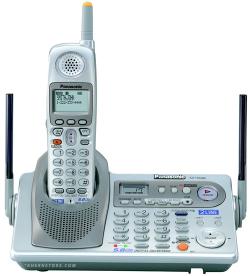 Back

Panasonic KX-TG5480S
2-Line 5.8GHz Cordless Telephone *$120.00 Manufacturer Discontinued



*Prices subject to change without notice
Two-Line Operation Helps You Manage Your Calls
The Panasonic KX-TG5480S 5.8 GHz Cordless Telephone - With two-line operation, you can conference in two outside lines to have a three-way conversation. Or place your current call on hold to make another call. Being able to use two phone lines with just one phone makes it convenient and efficient to manage your calls.
Long Range, Clear Sound, Minimal Interference
Our 5.8GHz Frequency-Hopping Spread Spectrum technology operates on a different wavelength with much less traffic than the 2.4 GHz technology while maintaining the great security, incredible clarity and long range. Have a wireless computer network, or thinking about getting one? The Panasonic KX-TG5480S 5.8GHz technology will not interfere with wireless networks such as 802.11b or 802.11g WiFi.
All-Digital Answering System
The Panasonic KX-TG5480S cordless telephone system is equipped with an all-digital answering system for quick, easy retrieval of crystal-clear messages. Message operation has never been easier, with up to 60 minutes of recording time, plus such features as pre-recorded outgoing message, remote operation, Tollsaver, and skip-and-repeat. And don't worry about losing your messages when the power goes out-they're stored in flash memory so they're unaffected by power failure or interruptions.
Kids Sleeping? The Antenna Will Signal You Silently!
This year, we've found a way to shorten the handset antenna while still maintaining the long range that Panasonic customers have become accustomed to. But what's even cooler is that the tip of the antenna - which lights up - will alert you to an incoming call (or a message waiting for you). The light-up indicator will flash quickly to show that you have an incoming call, and it will flash slowly to let you know you have a new message in your voice mailbox. So turn off the ringer, let the kids sleep, and never miss a call.
Put the Phone Down While You Talk
Having a handset speakerphone may not seem like such a big deal-until you have to call an automated phone system. By the time you press "2" and return the phone to your ear, you missed half the next option! And when they put you on hold for ten minutes, do you really need to hold the phone? Not with the handset speakerphone. Just listen along, and press a button or pick up when it's convenient. You'll think up other great uses, like letting Grandma and Grandpa listen to their new grandchild at the same time, painting your nails as you talk to your best friend, or just being able to set the phone down while you talk.
KX-TG5480S Features:
5.8GHz 2-Line digital cordless telephone with answering machine
Caller ID, call waiting caller ID
50# Phonebook
50# Caller ID memory
4-Line backlit LCD on handset
Dual keypads
Dual speakerphone
Voice enhancer technology
Light-up antenna with ringer/message alert (flashes quickly for incoming call, slowly for message waiting)
Frequency hopping spread spectrum technology
Wireless network friendly (won't interfere with wireless computer networks)
Intercom
Chain dial
Clarity booster
Selectable ringtones (4 tones, 4 melodies)
Headset jack
Belt clip included
Lighted handset keypad
Redial/hold/flash/pause/mute
5 Hour talk time, 11 day stand by time
Line 1 and line 2 buttons on base (line indicator)
Line 1 and line 2 soft keys on handset
Not expandable
Digital answering machine
60 Minute digital record time
2-Digit LCD message counter on base
Flash memory message backup
Voice menu
Time/date stamp
Memo recording
Silver

Panasonic KX-TG5480S Manual (PDF)
Companion Products
| | |
| --- | --- |
| | Click on the image to the left to see compatible Plantronics Headsets |
Plx Headset Tour
Plx Headset Tops
Plx Amplifiers
Plx Cordless
Plx Mobile
Plx Computer
Plx Bluetooth
Plx Polaris
Plx Telephones
Plx Cushions Hooks & Buds
Plx Cords & Cables
Plx Cordless Accessories
Plx Value Packs & Voice Tubes
Smart Gang Charger
Sennheiser Headset Tour
Sennheiser Headset Tops
Sennheiser Amplifiers
Sennheiser Cordless
Sennheiser Bluetooth
Sennheiser Computer
Sennheiser Accessories
Starkey Headset Tour
Starkey Headset Tops
Starkey Amplifiers
Starkey Bluetooth
Starkey Accessories
GN Headset Tour
GN Headset Tops
GN Amplifiers
GN Cordless
GN Computer
GN Bluetooth
GN Accessories
Accutone Headset Tour
Accutone Headset Tops
Accutone Amplifiers
Accutone Mobile
Accutone Accessories
Accutone Compatibility Guide
9-1-1 Dispatch Headsets
Aastra 480i
Aastra 9110
Aastra 9112i
Aastra 9116
Aastra 9120
Aastra 9133i
GE Cordless Phones
Motorola Ojo
Panasonic Cordless Phones
Polycom Audio Conferencing
Polycom Accessories
RCA Cordless Phones
Vodavi Starplus 2802
Walker Clarity Phones
Identix Live Scan
SyTech RIOS
CamLite Model 1000
CamLite Accessories
Trade Shows
Returns & Policies
Contact Us
Privacy
Headset Demo Program
History of Bluetooth
9-1-1 & VoIP
Cordless Headset Shootout
Emergency Charge System
Fire Sale Specials
Aviation Headsets
How to Recycle Electronic Items