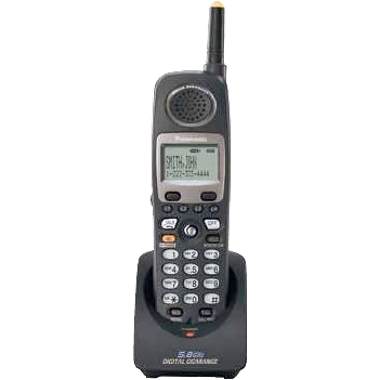 Back

Panasonic KX-TGA450B
Accessory Handset *$95.95 Manufacturer Discontinued



*Prices subject to change without notice
Add up to 7 of these Wi-Fi compatible Panasonic 4-line 5.8 GHz Cordless Expansion Handsets to your Panasonic 4-line 5.8 GHz Cordless Phone System and extend its powerful digital clarity & security and many advanced features throughout your growing office!
Enhance business productivity without breaking your budget by adding only the number of these flexible handsets you need at any given time. They're fully compatible with the main phone system's 4-line operation and Call Waiting/Caller ID functions, and feature a 3-line backlit LCD, lighted keypad, hold/flash/redial functions, 2-way intercom, and more!
Just look at the benefits!
5.8 GHz Frequency-Hopping Spread Spectrum technology — offers impressive clarity, security, and long range; plus, it won't interfere with wireless networks.
Expands to a total of 8 handsets — lets you add multiple handsets wherever you need them without complicated wiring or installation. Simply plug expansion handsets into any standard outlet!
50-Name phonebook and dialer — stores up to 50 names and phone numbers for easy dialing.
30-Name Caller ID memory and dialer — lets you store information from up to 30 incoming calls in memory and dial them directly.
Headset jack — provides a built-in 2.5 mm headset jack for private, hands-free conversation.
Use of Caller ID features requires subscription to Caller ID services.

Panasonic KX-TGA450B Manual (PDF)
Companion Products
| | |
| --- | --- |
| | Click on the image to the left to see compatible Plantronics Headsets |
Plx Headset Tour
Plx Headset Tops
Plx Amplifiers
Plx Cordless
Plx Mobile
Plx Computer
Plx Bluetooth
Plx Polaris
Plx Telephones
Plx Cushions Hooks & Buds
Plx Cords & Cables
Plx Cordless Accessories
Plx Value Packs & Voice Tubes
Smart Gang Charger
Sennheiser Headset Tour
Sennheiser Headset Tops
Sennheiser Amplifiers
Sennheiser Cordless
Sennheiser Bluetooth
Sennheiser Computer
Sennheiser Accessories
Starkey Headset Tour
Starkey Headset Tops
Starkey Amplifiers
Starkey Bluetooth
Starkey Accessories
GN Headset Tour
GN Headset Tops
GN Amplifiers
GN Cordless
GN Computer
GN Bluetooth
GN Accessories
Accutone Headset Tour
Accutone Headset Tops
Accutone Amplifiers
Accutone Mobile
Accutone Accessories
Accutone Compatibility Guide
9-1-1 Dispatch Headsets
Aastra 480i
Aastra 9110
Aastra 9112i
Aastra 9116
Aastra 9120
Aastra 9133i
GE Cordless Phones
Motorola Ojo
Panasonic Cordless Phones
Polycom Audio Conferencing
Polycom Accessories
RCA Cordless Phones
Vodavi Starplus 2802
Walker Clarity Phones
Identix Live Scan
SyTech RIOS
CamLite Model 1000
CamLite Accessories
Trade Shows
Returns & Policies
Contact Us
Privacy
Headset Demo Program
History of Bluetooth
9-1-1 & VoIP
Cordless Headset Shootout
Emergency Charge System
Fire Sale Specials
Aviation Headsets
How to Recycle Electronic Items