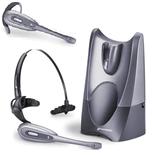 Back

Plantronics Avaya AWH-55 Wireless Headset $319.95
For Specific Avaya Phone Models Only


The Plantronics Avaya AWH-55 Wireless Headset System brings the ultimate in mobility and sound quality for hands-free conversations to your phone. Totally wireless, the AWH-55 gives you up to eight hours talk time and the wireless convenience to roam up to 300 feet while having secure conversations. The headset continuously charges in the cradle, and when in use, taking or ending a call is as simple as pressing a button.

Compatible with Avaya corded office phones, the Plantronics AWH-55 headset can be worn on either ear or over-the-head for maximum, long wearing comfort. The optional behind the neck headband can also be used for those who prefer not to use the over the ear, or over the head styles.

Avaya AWH-55 Features:
Roam up to 300 feet in a typical office environment
Talk for up to eight hours without recharging
Fully recharge the headset in less than three hours.
80% recharged in 1.5 hours
Have clear, private and completely secure conversations
Answer and end calls when you're away from your desk with the touch of a button
Be heard clearly with a noise-canceling microphone
Quickly mute the microphone with the touch of a button
Built in hookswitch and ring detection with 2410, 2420, 4610sw, 4620, 4620sw, 24621sw, 4622sw, 4625sw, 4630, 4630sw, 5410, 5420, 5610, 5620, 6416D+M, 6424D+M.
Other phones require the HL10 Handest Lifter for remoter answering of calls.

Plantronics Avaya AWH-55 User's Guide (PDF)
REQUIREMENTS: The Avaya LKA10 requires a Lucent / Avaya DEFINITY phone system. For other phone systems, please see other Plantronics cordless headset systems.
Avaya AWH-55 wireless headset is for use with the following Avaya telephone models:
2410, 2420, 4610SW, 4612, 4620, 4620SW, 4621, 4622, 4625, 4630, 4630SW, 5410, 5420, 5610, 5620, 6416D+M, 6424D+M





Plx Headset Tour Plx Headset Tops Plx Amplifiers Plx Cordless Plx Mobile Plx Computer Plx Bluetooth
Plx Polaris Plx Telephones Plx Cushions Hooks & Buds Plx Cords & Cables Plx Cordless Accessories
Plx Value Packs & Voice Tubes Smart Gang Charger Sennheiser Headset Tour Sennheiser Headset Tops
Sennheiser Amplifiers Sennheiser Cordless Sennheiser Bluetooth Sennheiser Computer
Sennheiser Accessories Starkey Headset Tour Starkey Headset Tops Starkey Amplifiers Starkey Bluetooth
Starkey Accessories GN Headset Tour GN Headset Tops GN Amplifiers GN Cordless GN Computer
GN Bluetooth GN Accessories Accutone Headset Tour Accutone Headset Tops Accutone Amplifiers
Accutone Mobile Accutone Accessories Accutone Compatibility Guide 9-1-1 Dispatch Headsets Aastra 480i
Aastra 9110 Aastra 9112i Aastra 9116 Aastra 9120 Aastra 9133i GE Cordless Phones Motorola Ojo
Panasonic Cordless Phones Polycom Audio Conferencing Polycom Accessories RCA Cordless Phones
Vodavi Starplus 2802 Walker Clarity Phones Identix Live Scan SyTech RIOS CamLite Model 1000
CamLite Accessories Trade Shows Returns & Policies Contact Us PrivacyHeadset Demo Program
History of Bluetooth 9-1-1 & VoIP Cordless Headset Shootout Emergency Charge System
Fire Sale Specials Aviation Headsets How to Recycle Electronic Items