Blackwire Headsets 300 Series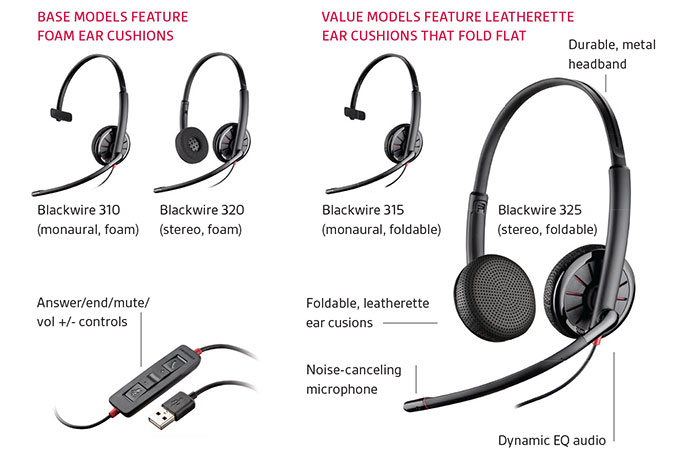 ● Two user wearing options: hi-fi stereo for those who want a richer, immersive experience and mono (monaural) for users who prefer to leave one ear open to their environment.
● Enjoy the freedom of a secure fit. A lightweight metal headband offers durability and a custom, comfortable fit
● Simple, intuitive, inline controls let you answer/end, mute, and control the volume of PC calls with ease
● Smartly placed indicator lights and in-ear audio alerts provide helpful but non-obtrusive user call, mute, and volume status
● Unique Dynamic EQ adjusts and optimizes settings on the fly, creating the best sound for voice, music, or multimedia
● Wideband audio, a noise-canceling microphone, along with enhanced Digital Signal Processing (DSP), delivers clear, natural, and rich audio
● SoundGuard® technology ensures listening comfort and acoustic limiting for protection against audio spikes
● Upgradable software ensures compatibility and feature support so you're ready for your next communication steps.
● Plug-and-play, no hassle installation, and UC Toolkit resources promotes painless IT deployment and management
● Optional accessories include leatherette ear cushions and a hard carrying case
● Backed by Plantronics industry leading global service and support and a full two year limited warranty



Blackwire C310 Monaural USB Headset*

.

Enter UC with a headset designed (and priced) to lead the way. Blackwire 300 Series USB headsets offer professional sound in a durable and comfortable design, making them a no compromise, budget-friendly solution for the enterprise. Base model comes with foam ear cushions.

$44.95





Blackwire C310-M Monaural USB Headset (Microsoft)**

Enter UC with the best-featured headset you never thought your budget could afford. Blackwire C310-M USB headsets deliver simplicity, durability, comfort, and professional sound at an entry-level cost. Base model comes with foam ear cushions.
$44.95




Blackwire C315 Monaural USB Headset*

Monaural headset comes with leatherette ear cushion and folds flat for portability.


$69.95

Blackwire C315-M Monaural USB Headset (Microsoft) **

Monaural headset comes with leatherette ear cushion and folds flat for portability. Optimized for Microsoft Lync and OCS 2007.
$69.95




Blackwire C320 Stereo USB Headset*

Stereo headset comes with foam ear cushions.
$49.95




Blackwire C320-M Stereo USB Headset (Microsoft)**

Stereo headset comes with foam ear cushions. Optimized for Microsoft Lync and OCS 2007.

$49.95




Blackwire C325 Stereo USB Headset*

Stereo headset comes with leatherette ear cushions and folds flat for easy portability.
$74.95




Blackwire C325-M Stereo USB Headset (Microsoft) **

Stereo headset comes with leatherette ear cushions and folds flat for easy portability. Optimized for Microsoft Lync and OCS 2007.
$74.95




Leatherette Ear Cushions (1 pair)

$9.95







* UC Standard version built for UC applications and softphones from Avaya®, Cisco®, IBM®, Skype® and more
** Optimized for Microsoft® Lync™ 2010 and Microsoft® OCS 2007
Software-enabled Functionality
With Plantronics Spokes software get the added value of:
Call control across multiple softphones
Headset control panel allows for customization of settings, including call notification and related options
UC presence automatically updated when on a call
Plx Headset Tour Plx Headset Tops Plx Amplifiers Plx Cordless Plx Mobile Plx Computer Plx Bluetooth
Plx Polaris Plx Telephones Plx Cushions Hooks & Buds Plx Cords & Cables Plx Cordless Accessories
Plx Value Packs & Voice Tubes Smart Gang Charger Sennheiser Headset Tour Sennheiser Headset Tops
Sennheiser Amplifiers Sennheiser Cordless Sennheiser Bluetooth Sennheiser Computer
Sennheiser Accessories Starkey Headset Tour Starkey Headset Tops Starkey Amplifiers Starkey Bluetooth
Starkey Accessories GN Headset Tour GN Headset Tops GN Amplifiers GN Cordless GN Computer
GN Bluetooth GN Accessories Accutone Headset Tour Accutone Headset Tops Accutone Amplifiers
Accutone Mobile Accutone Accessories Accutone Compatibility Guide 9-1-1 Dispatch Headsets Aastra 480i
Aastra 9110 Aastra 9112i Aastra 9116 Aastra 9120 Aastra 9133i GE Cordless Phones Motorola Ojo
Panasonic Cordless Phones Polycom Audio Conferencing Polycom Accessories RCA Cordless Phones
Vodavi Starplus 2802 Walker Clarity Phones Identix Live Scan SyTech RIOS CamLite Model 1000
CamLite Accessories Trade Shows Returns & Policies Contact Us PrivacyHeadset Demo Program
History of Bluetooth 9-1-1 & VoIP Cordless Headset Shootout Emergency Charge System
Fire Sale Specials Aviation Headsets How to Recycle Electronic Items