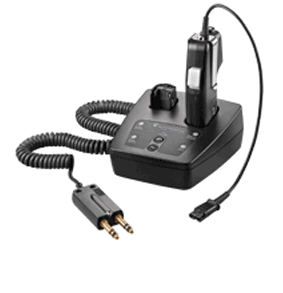 Back

Plantronics CA12CD 6-Wire PTT Cordless Headset Amplifier $442.00


The CA12CD is a cordless PTT (push-to-talk) headset adapter designed to provide encrypted communications and PTT functionality for applications such as Public Safety Dispatch and Air Traffic Control. The CA12CD PTT cordless amplifier works with all H series headsets, and utilizes digital processing (DECT™) while operating in the UPCS radio band (1.92-1.93 GHz).

CA12CD Features:
Digital (DECT™) technology operating in the 1.9GHz radio band provides superior voice clarity and security.
Industry standard ergonomic design of PTT unit.
Robust PTT switch with selectable locking/non-Locking operational modes.
The CA12CD cordless headset amplifier includes two charging wells; one for the remote unit while the other facilitates charging the extra battery pack (supplied with unit).
Lithium-Ion battery packs provide longer talk time (approximately 8 hours) and faster recharge rates.
Quick Disconnect™ facilitates use with Plantronics H Series headset tops.

Plantronics CA12CD User's Guide (PDF)

Setup Guide
Plx Headset Tour Plx Headset Tops Plx Amplifiers Plx Cordless Plx Mobile Plx Computer Plx Bluetooth
Plx Polaris Plx Telephones Plx Cushions Hooks & Buds Plx Cords & Cables Plx Cordless Accessories
Plx Value Packs & Voice Tubes Smart Gang Charger Sennheiser Headset Tour Sennheiser Headset Tops
Sennheiser Amplifiers Sennheiser Cordless Sennheiser Bluetooth Sennheiser Computer
Sennheiser Accessories Starkey Headset Tour Starkey Headset Tops Starkey Amplifiers Starkey Bluetooth
Starkey Accessories GN Headset Tour GN Headset Tops GN Amplifiers GN Cordless GN Computer
GN Bluetooth GN Accessories Accutone Headset Tour Accutone Headset Tops Accutone Amplifiers
Accutone Mobile Accutone Accessories Accutone Compatibility Guide 9-1-1 Dispatch Headsets Aastra 480i
Aastra 9110 Aastra 9112i Aastra 9116 Aastra 9120 Aastra 9133i GE Cordless Phones Motorola Ojo
Panasonic Cordless Phones Polycom Audio Conferencing Polycom Accessories RCA Cordless Phones
Vodavi Starplus 2802 Walker Clarity Phones Identix Live Scan SyTech RIOS CamLite Model 1000
CamLite Accessories Trade Shows Returns & Policies Contact Us PrivacyHeadset Demo Program
History of Bluetooth 9-1-1 & VoIP Cordless Headset Shootout Emergency Charge System
Fire Sale Specials Aviation Headsets How to Recycle Electronic Items