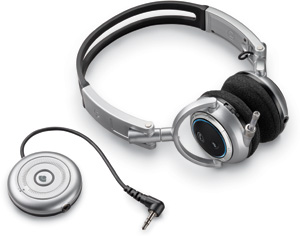 Back

Plantronics Pulsar 590A Stereo Bluetooth Headset $249.95 $200.00



Turn your audio device into Stereo Bluetooth
The Universal Adapter included with the Plantronics Pulsar 590A stereo bluetooth headset plugs directly into most 3.5 mm audio devices, so you can enjoy Bluetooth stereo listening on laptops, PCs, PDAs, TVs, MP3 and DVD players, and home entertainment systems.
Ultimate wireless freedom—phone calls and stereo music in one headset
Enjoy high fidelity stereo sound, voice clarity, and comfort—all without wires! The Plantronics Pulsar 590A Bluetooth Headset seamlessly switch between your Bluetooth mobile phone and audio devices, so you'll never miss a call while listening wirelessly to your favorite music or movies. The foldable headset design makes a convenient and portable package, perfect for anyone on the go.
High fidelity stereo sound, superior audio performance
Freedom to roam up to 33 feet from your Bluetooth device
Universal Adapter Included with Pulsar 590A only
Works with multiple Bluetooth devices: seamlessly switch between calls and music with multipoint technology
Up to 12 hours talk time and up to 10 hours audio listening time
Telescoping voice tube for clear calls
Foldable headset design for convenient travel and compact storage
Adjustable headband and pivoting pillow-soft ear cushions for superior fit and wearing comfort
Dedicated buttons allow call and music control functions directly from the headset
Convenient desktop charging stand to charge and store your headset
Pulsar 590A Key Features:
Listen Time: Up to 10 hours
Talk Time: Up to 12 hours
Standby Time: Approximately 130 hours
Charge Time: 2 hours
Range: Bluetooth standard 33 feet (10 meters)
Weight: 97.7 grams (3.45 ounces)
Power Requirements: 5V DC – 300 mA
Battery Type: Lithium Ion Polymer
Headset Speakers: 28 mm Neodymium
Speaker Frequency Response: Telephony: 300 Hz to 3600 Hz (CVSD u-Law) Stereo Audio: 20 Hz to 20 kHz (16-bit 48 kHz SBC Coding)
Impedance: 32 ± 4 Ohms @ 1 kHz
Distortion: <5% to 19 kHz
Version: Bluetooth 2.0
Supports Bluetooth Hands-Free and Headset Profiles,
Advanced Audio Distribution Profile (A2DP),
Audio/Video, Remote Control Profile (AVRCP),
and Generic Audio/Video Distribution Profile (GAVDP)

Plantronics Pulsar 590a User's Guide (PDF)
Plx Headset Tour Plx Headset Tops Plx Amplifiers Plx Cordless Plx Mobile Plx Computer Plx Bluetooth
Plx Polaris Plx Telephones Plx Cushions Hooks & Buds Plx Cords & Cables Plx Cordless Accessories
Plx Value Packs & Voice Tubes Smart Gang Charger Sennheiser Headset Tour Sennheiser Headset Tops
Sennheiser Amplifiers Sennheiser Cordless Sennheiser Bluetooth Sennheiser Computer
Sennheiser Accessories Starkey Headset Tour Starkey Headset Tops Starkey Amplifiers Starkey Bluetooth
Starkey Accessories GN Headset Tour GN Headset Tops GN Amplifiers GN Cordless GN Computer
GN Bluetooth GN Accessories Accutone Headset Tour Accutone Headset Tops Accutone Amplifiers
Accutone Mobile Accutone Accessories Accutone Compatibility Guide 9-1-1 Dispatch Headsets Aastra 480i
Aastra 9110 Aastra 9112i Aastra 9116 Aastra 9120 Aastra 9133i GE Cordless Phones Motorola Ojo
Panasonic Cordless Phones Polycom Audio Conferencing Polycom Accessories RCA Cordless Phones
Vodavi Starplus 2802 Walker Clarity Phones Identix Live Scan SyTech RIOS CamLite Model 1000
CamLite Accessories Trade Shows Returns & Policies Contact Us PrivacyHeadset Demo Program
History of Bluetooth 9-1-1 & VoIP Cordless Headset Shootout Emergency Charge System
Fire Sale Specials Aviation Headsets How to Recycle Electronic Items