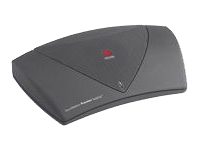 Back
Polycom SoundStation Premier Satellite w/900MHz Wireless Mic #2200-02600-001

Manufacturer discontinued call 831.335.6850 for replacement information



*Prices subject to change without notice
**The Polycom SoundStation Premier Satellite system adds a second powerful speaker to the one built into Polycom SoundStation Premier, to fill almost any size room with crystal clear sound. You can also get up to seven directional microphones for broader coverage, and a 900MHz rechargeable wireless lavalier microphone with built in security to prevent eavesdropping and give presenters freedom to move around the room. Featuring a modular, portable design, Polycom SoundStation Premier Satellite is easy to install and customize for the largest conference or boardrooms. Other features include convenient console connectivity for a standard analog phone line, an RCA jack that allows you to record calls, and an interface to connect a telephone handset for privacy.
Features
Satellite Speaker
Expandable Up To 8 Mics
Secure, Wireless 900MHz Lavalier Mic
Color: Black
**Customers installing Premier Satellite with a previously installed Premier unit should be advised that the Satellite console replaces the Walmod or Unimod power supply.

**Works Only with Version C or Higher SoundStation Premier**









Plx Headset Tour Plx Headset Tops Plx Amplifiers Plx Cordless Plx Mobile Plx Computer Plx Bluetooth
Plx Polaris Plx Telephones Plx Cushions Hooks & Buds Plx Cords & Cables Plx Cordless Accessories
Plx Value Packs & Voice Tubes Smart Gang Charger Sennheiser Headset Tour Sennheiser Headset Tops
Sennheiser Amplifiers Sennheiser Cordless Sennheiser Bluetooth Sennheiser Computer
Sennheiser Accessories Starkey Headset Tour Starkey Headset Tops Starkey Amplifiers Starkey Bluetooth
Starkey Accessories GN Headset Tour GN Headset Tops GN Amplifiers GN Cordless GN Computer
GN Bluetooth GN Accessories Accutone Headset Tour Accutone Headset Tops Accutone Amplifiers
Accutone Mobile Accutone Accessories Accutone Compatibility Guide 9-1-1 Dispatch Headsets Aastra 480i
Aastra 9110 Aastra 9112i Aastra 9116 Aastra 9120 Aastra 9133i GE Cordless Phones Motorola Ojo
Panasonic Cordless Phones Polycom Audio Conferencing Polycom Accessories RCA Cordless Phones
Vodavi Starplus 2802 Walker Clarity Phones Identix Live Scan SyTech RIOS CamLite Model 1000
CamLite Accessories Trade Shows Returns & Policies Contact Us PrivacyHeadset Demo Program
History of Bluetooth 9-1-1 & VoIP Cordless Headset Shootout Emergency Charge System
Fire Sale Specials Aviation Headsets How to Recycle Electronic Items