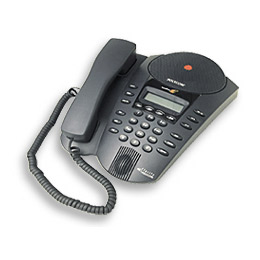 Back

Polycom SoundPoint SE-225 2-Line Professional Conference Phone #2200-06325-001
*$259.00 ADCOM/BHS



*Prices subject to change without notice
The Polycom SoundPoint® Pro SE-225 seamlessly integrates handset and headset telephone functionality with crystal clear, hands-free voice conferencing in an elegant personal business phone. With the touch of a button, SoundPoint Pro SE-225 lets you hold clear, multipoint conference calls with up to two additional participants. Polycoms Acoustic Clarity Technology enables callers to speak when they want without clipped sentences and one-way conversations that are common with ordinary business speakerphones.The SoundPoint Pro SE-225 has versatile features like a front and rear-facing microphone for 360° voice conferencing coverage, and dialing is quick with the 99-number speed-dial capability. You can also connect an optional headset for quality, hands-free applications.
SoundPoint SE-225 Features:
2-Line Professional Conference Phone
Full Duplex Operation
Caller ID / Call Waiting
2 Mic System
32-Character LCD Display
Integrated Headset Amp, Hanger, & Controls
Color: Black
Plx Headset Tour Plx Headset Tops Plx Amplifiers Plx Cordless Plx Mobile Plx Computer Plx Bluetooth
Plx Polaris Plx Telephones Plx Cushions Hooks & Buds Plx Cords & Cables Plx Cordless Accessories
Plx Value Packs & Voice Tubes Smart Gang Charger Sennheiser Headset Tour Sennheiser Headset Tops
Sennheiser Amplifiers Sennheiser Cordless Sennheiser Bluetooth Sennheiser Computer
Sennheiser Accessories Starkey Headset Tour Starkey Headset Tops Starkey Amplifiers Starkey Bluetooth
Starkey Accessories GN Headset Tour GN Headset Tops GN Amplifiers GN Cordless GN Computer
GN Bluetooth GN Accessories Accutone Headset Tour Accutone Headset Tops Accutone Amplifiers
Accutone Mobile Accutone Accessories Accutone Compatibility Guide 9-1-1 Dispatch Headsets Aastra 480i
Aastra 9110 Aastra 9112i Aastra 9116 Aastra 9120 Aastra 9133i GE Cordless Phones Motorola Ojo
Panasonic Cordless Phones Polycom Audio Conferencing Polycom Accessories RCA Cordless Phones
Vodavi Starplus 2802 Walker Clarity Phones Identix Live Scan SyTech RIOS CamLite Model 1000
CamLite Accessories Trade Shows Returns & Policies Contact Us PrivacyHeadset Demo Program
History of Bluetooth 9-1-1 & VoIP Cordless Headset Shootout Emergency Charge System
Fire Sale Specials Aviation Headsets How to Recycle Electronic Items