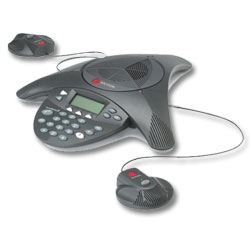 Back

Polycom SoundStation2 Expandable #2200-16200-001
Shown with optional microphnes #2200-16155-001
$729.00 *$639.00 ADCOM/BHS



*Prices subject to change without notice
This is Polycom's expandable Soundstation2 model, you can add optional extension microphones to allow for larger rooms. It is suitable for conference rooms up to 20 X 30 feet, with 1-25 people, when used with the optional extension mics. The Soundstation2 enjoys a 50% increase in microphone sensitivity over the old Soundstation model.
The Soundstation2 Expandable model 2200-16200-001 adapts to changing conditions in the room and filters out background noise. It makes full duplex (2 way) conversations easy, natural, and distortion free, they even eliminate echoes! All of these units adapt to changing conditions in the room and filter out background noise. There are 3 built in microphones in the Soundstation 2 for 360 degree coverage, and a powerful digitally tuned custom speaker. The SoundStation2 console features include hold, redial, flash (adjustable), time-of-day, call length, and mute buttons. There are also 3 context sensitive soft keys. There is an integrated keypad to place or receive calls. The Polycom Soundstation2 connects to the phone system via a 2 wire RJ11 connector. There is also a RCA jack for recording. These units connect to analog phone systems, to connect to a digital phone system you need an adapter, sold under accessories. There is also a 2.5mm headset connector allowing you to hook other devices, including cell phones, to this unit. See the polycom web site for a list of compatible cell phones.
SoundStation2 Expandable Features:
Caller ID
Acoustic Clarity Technology
50% Increase in Mic Sensitivity
Two External Mic Ports
Dynamic Noise Reduction (DNR)
Reduces Distracting Room & Background Noises
Secure Conferencing
64Bit Voice Encryption
Three cardioid Mics
360 Degree Mic Coverage
Graphical Backlit LCD Display
Selectable Ringtones
Cell Phone Dialing Via Headset Cable Connection
Aux Out Activated from Console
Automatic Gain Control (AGC)
Headset Jack
Requires Analog Telephone Line
Color: Black
1 year warranty
Plx Headset Tour
Plx Headset Tops
Plx Amplifiers
Plx Cordless
Plx Mobile
Plx Computer
Plx Bluetooth
Plx Polaris
Plx Telephones
Plx Cushions Hooks & Buds
Plx Cords & Cables
Plx Cordless Accessories
Plx Value Packs & Voice Tubes
Smart Gang Charger
Sennheiser Headset Tour
Sennheiser Headset Tops
Sennheiser Amplifiers
Sennheiser Cordless
Sennheiser Bluetooth
Sennheiser Computer
Sennheiser Accessories
Starkey Headset Tour
Starkey Headset Tops
Starkey Amplifiers
Starkey Bluetooth
Starkey Accessories
GN Headset Tour
GN Headset Tops
GN Amplifiers
GN Cordless
GN Computer
GN Bluetooth
GN Accessories
Accutone Headset Tour
Accutone Headset Tops
Accutone Amplifiers
Accutone Mobile
Accutone Accessories
Accutone Compatibility Guide
9-1-1 Dispatch Headsets
Aastra 480i
Aastra 9110
Aastra 9112i
Aastra 9116
Aastra 9120
Aastra 9133i
GE Cordless Phones
Motorola Ojo
Panasonic Cordless Phones
Polycom Audio Conferencing
Polycom Accessories
RCA Cordless Phones
Vodavi Starplus 2802
Walker Clarity Phones
Identix Live Scan
SyTech RIOS
CamLite Model 1000
CamLite Accessories
Trade Shows
Returns & Policies
Contact Us
Privacy
Headset Demo Program
History of Bluetooth
9-1-1 & VoIP
Cordless Headset Shootout
Emergency Charge System
Fire Sale Specials
Aviation Headsets
How to Recycle Electronic Items