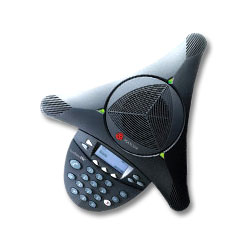 Back

Polycom SoundStation2W Expandable Wireless Conference Phone #2200-07800-001
$929.00 *$719.00 ADCOM/BHS



*Prices subject to change without notice
SoundStation2W is Polycom's new expandable wireless conference phone that gives users the freedom to conference anywhere team collaboration is important even in rooms where there are no phone lines. With better voice quality than the original SoundStation, standard 2.4 GHz technology with voice encryption, up to 24 hours of talk time, and the ability to dial through a cell phone, the SoundStation2W is the new standard for everyday conferencing.
Polycom SoundStation2W Features
Acoustic Clarity Technology
Leading wireless capabilities
Added security
Easy to use and install
Cell phone dialing
Local phonebook
Investment protection
Polycom SoundStation2W Highlights
Leading Polycom voice quality - The SoundStation2W expandable wireless conference phone is based on 11 years of market-leading Polycom Acoustic Clarity Technology, which offers crisp voice quality and natural two-communication (full duplex) delivered through high-performance speakers and finely tuned microphones that offer 360-degree room coverage. With twice the loudness and twice the microphone sensitivity of the original SoundStation, the SoundStation2W delivers a more productive voice conferencing experience.
Wireless flexibility and mobility - The system uses 2.4GHz WDCT (World Digital Communications Technology) providing up to 150-foot wireless range between the phone and a compact base station which plugs into any analog phone jack. The phone's quick-charging lithium-ion battery offers 12 or 24 hours (with upgrade) of talk time and 80 or 160 hours of standby time and can be recharged while in use in any room with a portable console charger. With 24 hours talk time, most customers will only need to charge the phone once a week. Expandable microphones are available for larger meeting environments.
Unmatched Security - The Polycom VoiceStation 2W phone features digital spread spectrum and additional 64 bit voice encryption for secure wireless operation. Additionally, the system provides an authentication key between the console and base station to ensure a unique pairing and to further reduce potential line interference issues. The SoundStation2W also introduces console activated Aux out functions, so that options such as recording are controlled from the phone rather than from the base station. This added control ensures that users are not subject to eavesdropping when using the phone in a place where the base station is out of sight.
Mobile phone compatibility- Users can start and manage calls on a cell phone and take advantage of the benefits of Polycom conference phone hands-free communication. Cell phones connect to the SoundStation2W wireless confernece phone through the headset jack by plugging the provided cable with standard 2.5mm interface into the conference phone. This capability is ideal for ad hoc meetings where conversations frequently evolve from two individuals speaking to multiple participants at each location. Further, in facilities with no phone lines, users can now setup an instant conferencing environment using the cell phone network, the conference phone acoustics and by connecting the base station to a power source.
Feature-rich LCD display and intuitive interface - The SoundStation2 W display provides battery and wireless signal status icons, caller ID and the capability to program a unique speed dial for a conference service number, among other familiar conference phone capabilities.
Investment protection through software upgrades - A built-in USB port enables the phone to be upgraded with new features and functionality via a software download.




Plx Headset Tour
Plx Headset Tops
Plx Amplifiers
Plx Cordless
Plx Mobile
Plx Computer
Plx Bluetooth
Plx Polaris
Plx Telephones
Plx Cushions Hooks & Buds
Plx Cords & Cables
Plx Cordless Accessories
Plx Value Packs & Voice Tubes
Smart Gang Charger
Sennheiser Headset Tour
Sennheiser Headset Tops
Sennheiser Amplifiers
Sennheiser Cordless
Sennheiser Bluetooth
Sennheiser Computer
Sennheiser Accessories
Starkey Headset Tour
Starkey Headset Tops
Starkey Amplifiers
Starkey Bluetooth
Starkey Accessories
GN Headset Tour
GN Headset Tops
GN Amplifiers
GN Cordless
GN Computer
GN Bluetooth
GN Accessories
Accutone Headset Tour
Accutone Headset Tops
Accutone Amplifiers
Accutone Mobile
Accutone Accessories
Accutone Compatibility Guide
9-1-1 Dispatch Headsets
Aastra 480i
Aastra 9110
Aastra 9112i
Aastra 9116
Aastra 9120
Aastra 9133i
GE Cordless Phones
Motorola Ojo
Panasonic Cordless Phones
Polycom Audio Conferencing
Polycom Accessories
RCA Cordless Phones
Vodavi Starplus 2802
Walker Clarity Phones
Identix Live Scan
SyTech RIOS
CamLite Model 1000
CamLite Accessories
Trade Shows
Returns & Policies
Contact Us
Privacy
Headset Demo Program
History of Bluetooth
9-1-1 & VoIP
Cordless Headset Shootout
Emergency Charge System
Fire Sale Specials
Aviation Headsets
How to Recycle Electronic Items