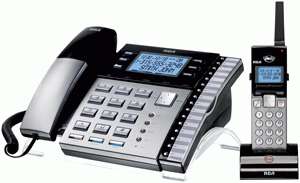 Back

RCA 25450RE3 4-Line Cordless Phone System Expandable to 16 Handsets
*$592.13 ADCOM/BHS
This product has been discontinued


*Prices subject to change without notice
The new RCA 25450RE3 4-Line Cordless Phone System is the ideal networking solution for dynamic small businesses. Boasting one of the longest ranges in the industry, the individual handsets of this RCA phone system each has a reach of some 2,000 feet, or the length of nearly seven football fields stretched back-to-back. With such extensive coverage, communication links from base station to remote operations, such as product storage facilities, are easily maintained.
The 25450RE3 4-line base system includes one corded handset and one cordless handset that automatically connects with the system by pressing the TALK button on the handset.
The base system can support up to 16 accessory cordless handsets (H5450RE3 ) providing a totally integrated business telephone networking solution that allows for expansion of the communication system as the organization grows. Both the base system and handsets feature caller ID, dial pad, and speakerphone capability. The base station also has 16 one-touch memory/intercom buttons to accommodate additional cordless handsets. Access to any open line on the four-line base station is activated by the TALK button.
Among its many convenience features, the RCA 25450RE3 system provides call conferencing, which allows multiple users to access the same line, and the ability to transfer calls between handsets. The system also provides memory dialing address book, auto attendant for automatic routing of incoming calls to the appropriate person, voice mail and preview dialing.
Easy to set up and operate, the 25450RE3 does not require professional installation or maintenance.
Features:
Speakerphone w/ Volume Control
Full Duplex Speakerphone
Caller ID and Call Waiting Caller ID (Base and Remote Handset)
4 Line Backlit LCD
Visual Ringer
Lighted Keypad
90 Name and Number Phonebook
50 Name and Number Caller ID
Redial
16 One Touch Memory Buttons
Hold with Indicator
Mute with Indicator
Call Conferencing
Ringer Control
Intercom
Hearing Aid Compatible
Rechargeable Battery Backup
Headset Jack
Dial in Base
4 Line Line Use
Line In Use Indicators
Page Feature
Selectable Ring Tones
Flash Function
NOT Wall Mountable, Desk Only
Companion Products
| | |
| --- | --- |
| | Click on the image to the left to see compatible Plantronics Headsets |
Plx Headset Tour
Plx Headset Tops
Plx Amplifiers
Plx Cordless
Plx Mobile
Plx Computer
Plx Bluetooth
Plx Polaris
Plx Telephones
Plx Cushions Hooks & Buds
Plx Cords & Cables
Plx Cordless Accessories
Plx Value Packs & Voice Tubes
Smart Gang Charger
Sennheiser Headset Tour
Sennheiser Headset Tops
Sennheiser Amplifiers
Sennheiser Cordless
Sennheiser Bluetooth
Sennheiser Computer
Sennheiser Accessories
Starkey Headset Tour
Starkey Headset Tops
Starkey Amplifiers
Starkey Bluetooth
Starkey Accessories
GN Headset Tour
GN Headset Tops
GN Amplifiers
GN Cordless
GN Computer
GN Bluetooth
GN Accessories
Accutone Headset Tour
Accutone Headset Tops
Accutone Amplifiers
Accutone Mobile
Accutone Accessories
Accutone Compatibility Guide
9-1-1 Dispatch Headsets
Aastra 480i
Aastra 9110
Aastra 9112i
Aastra 9116
Aastra 9120
Aastra 9133i
GE Cordless Phones
Motorola Ojo
Panasonic Cordless Phones
Polycom Audio Conferencing
Polycom Accessories
RCA Cordless Phones
Vodavi Starplus 2802
Walker Clarity Phones
Identix Live Scan
SyTech RIOS
CamLite Model 1000
CamLite Accessories
Trade Shows
Returns & Policies
Contact Us
Privacy
Headset Demo Program
History of Bluetooth
9-1-1 & VoIP
Cordless Headset Shootout
Emergency Charge System
Fire Sale Specials
Aviation Headsets
How to Recycle Electronic Items