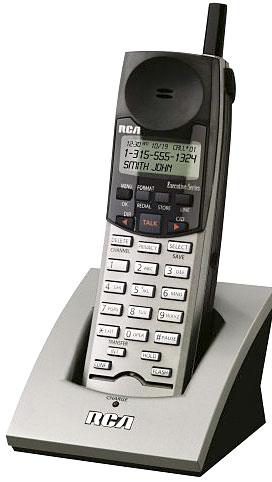 Back

RCA H5400RE3 900 MHz Expansion Accessory Handset
*$78.94 ADCOM/BHS
This product has been discontinued with no replacement


*Prices subject to change without notice
The H5400RE3 cordless handset connects to the data port on RCA 4-line system models 25413RE3, 25414RE3 and 25415RE3, and extends your phone system throughout your work space. Maximum of one handset for each base system. Handset provides access to all 4 lines.
H5400RE3 Features:
RCA 900MHz 4-Line dedicated accessory cordless handset
Caller ID
40# Caller ID memory
Headset jack
Redial/flash/mute/hold
Page function
Call transfer
Digital volume control
Intercom
Backlit 3-line LCD
Hearing aid compatible
1 Year limited manufacturer's warranty
Black with silver trim
Handset and charger
AC adapter
Belt clip
Cordless RF module
Handset battery
Companion Products
| | |
| --- | --- |
| | Click on the image to the left to see compatible Plantronics Headsets |
Plx Headset Tour Plx Headset Tops Plx Amplifiers Plx Cordless Plx Mobile Plx Computer Plx Bluetooth
Plx Polaris Plx Telephones Plx Cushions Hooks & Buds Plx Cords & Cables Plx Cordless Accessories
Plx Value Packs & Voice Tubes Smart Gang Charger Sennheiser Headset Tour Sennheiser Headset Tops
Sennheiser Amplifiers Sennheiser Cordless Sennheiser Bluetooth Sennheiser Computer
Sennheiser Accessories Starkey Headset Tour Starkey Headset Tops Starkey Amplifiers Starkey Bluetooth
Starkey Accessories GN Headset Tour GN Headset Tops GN Amplifiers GN Cordless GN Computer
GN Bluetooth GN Accessories Accutone Headset Tour Accutone Headset Tops Accutone Amplifiers
Accutone Mobile Accutone Accessories Accutone Compatibility Guide 9-1-1 Dispatch Headsets Aastra 480i
Aastra 9110 Aastra 9112i Aastra 9116 Aastra 9120 Aastra 9133i GE Cordless Phones Motorola Ojo
Panasonic Cordless Phones Polycom Audio Conferencing Polycom Accessories RCA Cordless Phones
Vodavi Starplus 2802 Walker Clarity Phones Identix Live Scan SyTech RIOS CamLite Model 1000
CamLite Accessories Trade Shows Returns & Policies Contact Us PrivacyHeadset Demo Program
History of Bluetooth 9-1-1 & VoIP Cordless Headset Shootout Emergency Charge System
Fire Sale Specials Aviation Headsets How to Recycle Electronic Items