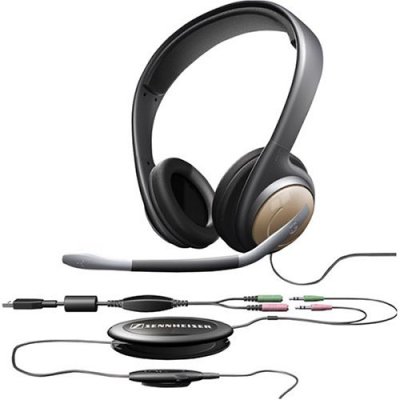 Back
Sennheiser PC155 USB Multimedia Headset $139.95


Game On! Hour-long game playing and internet surfing on your PC will become a totally new, exciting experience. The Sennheiser PC155 USB multimedia headset noise cancelling microphones, inline volume controls and the microphone mute function are among the many benefits. In developing products, top priority is given to first-class sound quality, sophisticated design and optimal wearing comfort.

PC155 Features:
Over the head design.
XL ear caps for maximum noise surrounding block out.
Adjustable, bendable and pivotable microphone improves the clarity of your communication, and gives you more comfort and flexibility.
In-line volume control/Microphone mute switch lets you decide how intense you want your conversations, gaming or listening to be and allows you to temporarily "remove" someone from a three-way conversation.
Single-sided cable will keep neck and chin free from distracting cables so that you can concentrate on your conversations or your game. Helps you keep things neat by holding unneeded cable wire (between the headphones and the adapter) to keep it out of the way when you talk or play.
Can be used with CD/DVD/MP3 player via a detachable USB adapter that reveals 2 x 3.5 mm plugs. Lets you play, watch, talk or listen almost anytime, almost anywhere. You can easily switch from your computer to your MP3 to listen to your tunes and relax.
USB Adapter - no need for a sound card.
Audio Output Details
Microphone Mounting Type Boom
Response Bandwidth 80 - 15000 Hz
Sensitivity -38 dBV/Pascal
Type Microphone

Audio Input Details
Frequency Response 80 - 15000 Hz
Microphone Operation Mode Uni-directional
Output Impedance 2 KOhm