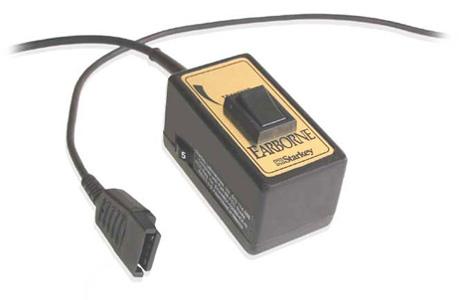 Back
Starkey CXF10 4-Wire BeltClip Carbon HeadSet Amplifier $118.00
Manufacturer Discontinued
The Starkey Earborne CXF10 is ideal for Dispatch applications where people move around a lot.
Dispatchers often stand up and sit down a lot while on their phones. That's why your Dispatch operation has probably been using belt-clip amplifiers all along. It's the only way to keep essential controls like the mute switch within each user's reach all day.
The CXF10 is one of today's smallest, most reliable 4-wire belt-clip carbon headset amplifiers. Its receive (RX) volume control, fully-adjustable transmit (TX) gain control and one-touch mute switch make it the ideal replacement amp.
The Starkey Earborne CXF10 has everything that Dispatch personnel value most in a belt-clip amp.
Small, light, and reliable
Compatible with any earset or headset
One-touch mute switch
Receive (RX) volume control
Fully-adjustable transmit (TX) gain
Clear, natural sound at both ends of the line
2-Year No-Worries Warranty
EASY MIGRATION PATH! Just let us know what kind of headsets you're using. We'll make sure you get the right cords with the right Quick Disconnects.




Plx Headset Tour Plx Headset Tops Plx Amplifiers Plx Cordless Plx Mobile Plx Computer Plx Bluetooth
Plx Polaris Plx Telephones Plx Cushions Hooks & Buds Plx Cords & Cables Plx Cordless Accessories
Plx Value Packs & Voice Tubes Smart Gang Charger Sennheiser Headset Tour Sennheiser Headset Tops
Sennheiser Amplifiers Sennheiser Cordless Sennheiser Bluetooth Sennheiser Computer
Sennheiser Accessories Starkey Headset Tour Starkey Headset Tops Starkey Amplifiers Starkey Bluetooth
Starkey Accessories GN Headset Tour GN Headset Tops GN Amplifiers GN Cordless GN Computer
GN Bluetooth GN Accessories Accutone Headset Tour Accutone Headset Tops Accutone Amplifiers
Accutone Mobile Accutone Accessories Accutone Compatibility Guide 9-1-1 Dispatch Headsets Aastra 480i
Aastra 9110 Aastra 9112i Aastra 9116 Aastra 9120 Aastra 9133i GE Cordless Phones Motorola Ojo
Panasonic Cordless Phones Polycom Audio Conferencing Polycom Accessories RCA Cordless Phones
Vodavi Starplus 2802 Walker Clarity Phones Identix Live Scan SyTech RIOS CamLite Model 1000
CamLite Accessories Trade Shows Returns & Policies Contact Us PrivacyHeadset Demo Program
History of Bluetooth 9-1-1 & VoIP Cordless Headset Shootout Emergency Charge System
Fire Sale Specials Aviation Headsets How to Recycle Electronic Items