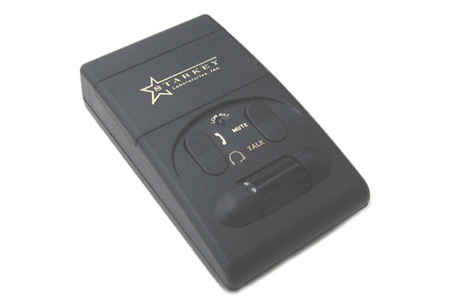 Back

Starkey E-4 Universal Headset Amplifier $140.00


We've built Starkey's 35 years of experience in helping people hear better into the E-4. It shows.

The E-4 uses proprietary Starkey-engineered circuitry where most headset amplifiers use generic "amps on a chip." It makes a difference that users can hear.

Our fully-adjustable transmit (TX) and receive (RX) gain lets you dial-in the clearest, most natural sound and dial-out distracting background noise.

Our advanced audio compression reduces listening fatigue by boosting soft voices and reducing loud ones to one consistent, comfortable level from call to call. Best-in-class battery life too!

The Starkey Earborne E-4 is the best universal amp we know how to make. Could be the best amp ever.
Compatible with any earset or headset
Compatible with any telephone
Clear, natural sound at both ends of the line
Freedom from listening fatigue
No-click mute switch
No-click headset/handset switch
Best-in-class battery life
Low battery light
2-Year No-Worries Warranty
EASY MIGRATION PATH! Just let us know what kind of headset and telephone you're using. We'll make sure you get the right cords with the right connectors.




Plx Headset Tour Plx Headset Tops Plx Amplifiers Plx Cordless Plx Mobile Plx Computer Plx Bluetooth
Plx Polaris Plx Telephones Plx Cushions Hooks & Buds Plx Cords & Cables Plx Cordless Accessories
Plx Value Packs & Voice Tubes Smart Gang Charger Sennheiser Headset Tour Sennheiser Headset Tops
Sennheiser Amplifiers Sennheiser Cordless Sennheiser Bluetooth Sennheiser Computer
Sennheiser Accessories Starkey Headset Tour Starkey Headset Tops Starkey Amplifiers Starkey Bluetooth
Starkey Accessories GN Headset Tour GN Headset Tops GN Amplifiers GN Cordless GN Computer
GN Bluetooth GN Accessories Accutone Headset Tour Accutone Headset Tops Accutone Amplifiers
Accutone Mobile Accutone Accessories Accutone Compatibility Guide 9-1-1 Dispatch Headsets Aastra 480i
Aastra 9110 Aastra 9112i Aastra 9116 Aastra 9120 Aastra 9133i GE Cordless Phones Motorola Ojo
Panasonic Cordless Phones Polycom Audio Conferencing Polycom Accessories RCA Cordless Phones
Vodavi Starplus 2802 Walker Clarity Phones Identix Live Scan SyTech RIOS CamLite Model 1000
CamLite Accessories Trade Shows Returns & Policies Contact Us PrivacyHeadset Demo Program
History of Bluetooth 9-1-1 & VoIP Cordless Headset Shootout Emergency Charge System
Fire Sale Specials Aviation Headsets How to Recycle Electronic Items