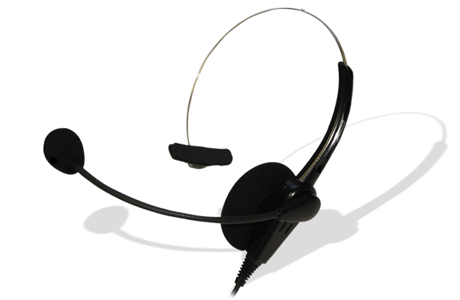 Back
Starkey T300 Monaural Headset $99.00


Your best bet for noisy, high volume Call Centers. The kindest thing you can do for everyone's head.

The Starkey T300 headset bridges the gap between the "industrial strength" construction that Call Centers demand, and the all-day comfort that their people deserve.

The soft, oversize earpiece cushion does a superior job of sealing-out high levels of office noise. So does our flex boom mic and best-of-class noise canceling circuitry. The result is clear, natural sound at both ends of the line.

Our all-make amplifier compatibility provides a seamless migration path to Starkey comfort, quality and service.

The Starkey T300 headset takes a licking and keeps on kicking for high-volume users.
Clear, natural sound
All-day comfort
Flex boom noise canceling mic
Direct Quick Disconnect cord
All-make amp compatibility
2-Year No-Worries Warranty
See Model T400 for the Binaural version.

IF YOU'RE USING A NON-STARKEY AMP, let your Starkey representative
know what make of amp you have. We'll make sure that you get the right kind
of Quick Disconnect cord.




Plx Headset Tour Plx Headset Tops Plx Amplifiers Plx Cordless Plx Mobile Plx Computer Plx Bluetooth
Plx Polaris Plx Telephones Plx Cushions Hooks & Buds Plx Cords & Cables Plx Cordless Accessories
Plx Value Packs & Voice Tubes Smart Gang Charger Sennheiser Headset Tour Sennheiser Headset Tops
Sennheiser Amplifiers Sennheiser Cordless Sennheiser Bluetooth Sennheiser Computer
Sennheiser Accessories Starkey Headset Tour Starkey Headset Tops Starkey Amplifiers Starkey Bluetooth
Starkey Accessories GN Headset Tour GN Headset Tops GN Amplifiers GN Cordless GN Computer
GN Bluetooth GN Accessories Accutone Headset Tour Accutone Headset Tops Accutone Amplifiers
Accutone Mobile Accutone Accessories Accutone Compatibility Guide 9-1-1 Dispatch Headsets Aastra 480i
Aastra 9110 Aastra 9112i Aastra 9116 Aastra 9120 Aastra 9133i GE Cordless Phones Motorola Ojo
Panasonic Cordless Phones Polycom Audio Conferencing Polycom Accessories RCA Cordless Phones
Vodavi Starplus 2802 Walker Clarity Phones Identix Live Scan SyTech RIOS CamLite Model 1000
CamLite Accessories Trade Shows Returns & Policies Contact Us PrivacyHeadset Demo Program
History of Bluetooth 9-1-1 & VoIP Cordless Headset Shootout Emergency Charge System
Fire Sale Specials Aviation Headsets How to Recycle Electronic Items