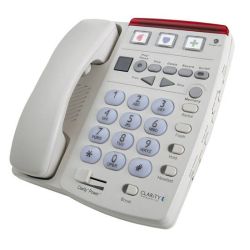 This telephone has been discontinued
Click image for larger view
*$149.95

*Prices subject to change without notice

Companion Products
Clarity C320 Amplified Telephone with Digital Answering Machine
Includes One Year Manufacturer's Warranty

Clarity C320 - Considered to be one of our ' most requested products', we have been searching for a product like this for some time. Calls on the Clarity C320 Amplified Telephone with Answering Machine will not only be up to 30db louder, but your messages can be amplified as well!

Programming the C320 amplified telephones answering machine and memory buttons is easy. The oversized buttons are easier to see because they are backlit, measure 1" by ¾", and have high contrast black numbers on a white background.

C320 Amplified Telephone Details:
An adjustable tone control lets you customize the amplifier for optimum word clarity. This makes similar sounding words easier to understand.
The C320 telephone automatically resets the volume to normal when you hang up. Then it returns to the pre-set amplification with a push of a button. You can also set the phone to remain at the specified amplification all the time.
The ringer volume is adjustable to 95dB. Choose from 6 different ring melodies in three different tones to best suit your needs.
A large, lighted visual ringer will also get your attention.
Answering Machine Detail:
The Clarity C320 amplified telephone volume control on the base also lets you adjust the volume of your messages as you listen to them through the speaker.
For even more amplification, listen to your messages through the handset. On the handset you can control the volume and tone just like you would during a call.
If you need more time to get to the phone, you can increase the number of times the phone will ring before the answering machine picks up.
General Product Details:
There are 3 one touch memory buttons for emergency numbers on the base
The Memory Buttons can store up to 10 of your most frequently dialed numbers
The base also has Redial, Hold and Flash buttons
Handset is compatible with hearing aid T-coil
Requires a 120 Volt AC adaptor (included)
There is a 2.5 mm headset jack on the base (headset not included)
Desk or wall mountable
One year limited warranty