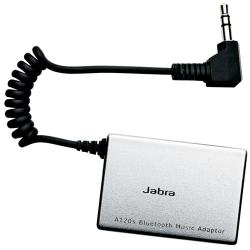 Back

Jabra A120s Bluetooth Music Adapter $49.95
Manufacturer Discontinued

Jabra A120s - Bluetooth stereo for everyone!
Thanks to Jabra Bluetooth stereo you can now listen to your favourite music without the hassle of wires and still stay in touch through your Bluetooth mobile phone.

Simply plug the Jabra A120s adapter into your PC or music player, pair up with the Jabra BT620s Bluetooth stereo headset and - PLAY - you're good to go! And if you're waiting for an important call, or just want to stay in touch, you can also pair your Jabra Bluetooth stereo headset with your mobile phone at the same time.

The Jabra A120s comes with a standard 3.5mm jack and is compatible with most music players.

Bluetooth compliance:
Bluetooth version 1.2 specifications

Supported Bluetooth profiles:
Advanced Audio Distribution Profile (A2DP) and Audio Video Remote Control Profile (AVRCP)*

Operating range:
Up to 10 metres

Music time:
Provides up to 10 hours music time**

Stand-by time:
Up to 250 hours standby time**

Charging time:
Approximately 2.5 hours with AC power supply (not included) and up to 6 hours with USB cable

Weight:
20 g

Features:
Compatible with all audio devices supporting 3.5 mm audio jack
Listen to music wirelessly
Indispensable companion for the BT620s (same charger, instant pairing)
*Limited compatibility, only supporting pause (mute)
**device dependent


Jabra A120s Manual (PDF)

Download Adobe® Reader® to view PDFs.






Plx Headset Tour Plx Headset Tops Plx Amplifiers Plx Cordless Plx Mobile Plx Computer Plx Bluetooth
Plx Polaris Plx Telephones Plx Cushions Hooks & Buds Plx Cords & Cables Plx Cordless Accessories
Plx Value Packs & Voice Tubes Smart Gang Charger Sennheiser Headset Tour Sennheiser Headset Tops
Sennheiser Amplifiers Sennheiser Cordless Sennheiser Bluetooth Sennheiser Computer
Sennheiser Accessories Starkey Headset Tour Starkey Headset Tops Starkey Amplifiers Starkey Bluetooth
Starkey Accessories GN Headset Tour GN Headset Tops GN Amplifiers GN Cordless GN Computer
GN Bluetooth GN Accessories Accutone Headset Tour Accutone Headset Tops Accutone Amplifiers
Accutone Mobile Accutone Accessories Accutone Compatibility Guide 9-1-1 Dispatch Headsets Aastra 480i
Aastra 9110 Aastra 9112i Aastra 9116 Aastra 9120 Aastra 9133i GE Cordless Phones Motorola Ojo
Panasonic Cordless Phones Polycom Audio Conferencing Polycom Accessories RCA Cordless Phones
Vodavi Starplus 2802 Walker Clarity Phones Identix Live Scan SyTech RIOS CamLite Model 1000
CamLite Accessories Trade Shows Returns & Policies Contact Us PrivacyHeadset Demo Program
History of Bluetooth 9-1-1 & VoIP Cordless Headset Shootout Emergency Charge System
Fire Sale Specials Aviation Headsets How to Recycle Electronic Items