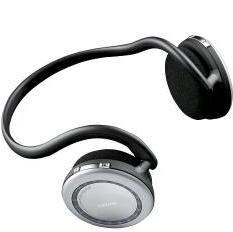 Back

Jabra BT620s Bluetooth Stereo Headset $109.00


The dual-use Jabra BT620s Bluetooth® Stereo Headphones let you listen to music wirelessly up to 30 feet away… then switch to a call on your Bluetooth cell phone without missing a beat. Music pauses when a call comes in, and continues once the call stops.

The BT620s lets you stream music from your home stereo, TV, PC, or MP3 player using the A120s Bluetooth Music Adapter (sold separately), plus connect wirelessly to your Bluetooth-enabled cell phone to take calls.

Just look at the benefits!

Intuitive controls — on the headphones let you switch quickly and easily from listening to music to taking calls. Music buttons are on the right earpiece, call buttons are on the left. Standard music controls include play/pause/stop button, preview/next track/FFWD/RWD. Phone controls include answer/end call, reject, hold and mute.

Multi-directional microphone — is built in to the headphones to ensure optimal voice pick-up.

Up to 16 hours of talk time — and 240 hours of standby on a single charge.

Up to 14 hours of music time — provides all-day listening pleasure.

Hi-fi frequency speakers — guarantee crystal clear sound reproduction so you'll get the most out of your favorite music.

Cool and comfortable — behind-the-head neckband wearing style.

Jabra BT620s Manual (PDF)

Download Adobe® Reader® to view PDFs.
Companion Products
Jabra A120s Bluetooth Music Adapter $49.95
Your Jabra A120s is designed to work with any Jabra Bluetooth stereo headset such as the Jabra BT620s. The adaptor connects to most audio sources such as portable MP3 players, handheld gaming devices, computers etc. via a standard
3.5mm audio connector. read more...
Plx Headset Tour Plx Headset Tops Plx Amplifiers Plx Cordless Plx Mobile Plx Computer Plx Bluetooth
Plx Polaris Plx Telephones Plx Cushions Hooks & Buds Plx Cords & Cables Plx Cordless Accessories
Plx Value Packs & Voice Tubes Smart Gang Charger Sennheiser Headset Tour Sennheiser Headset Tops
Sennheiser Amplifiers Sennheiser Cordless Sennheiser Bluetooth Sennheiser Computer
Sennheiser Accessories Starkey Headset Tour Starkey Headset Tops Starkey Amplifiers Starkey Bluetooth
Starkey Accessories GN Headset Tour GN Headset Tops GN Amplifiers GN Cordless GN Computer
GN Bluetooth GN Accessories Accutone Headset Tour Accutone Headset Tops Accutone Amplifiers
Accutone Mobile Accutone Accessories Accutone Compatibility Guide 9-1-1 Dispatch Headsets Aastra 480i
Aastra 9110 Aastra 9112i Aastra 9116 Aastra 9120 Aastra 9133i GE Cordless Phones Motorola Ojo
Panasonic Cordless Phones Polycom Audio Conferencing Polycom Accessories RCA Cordless Phones
Vodavi Starplus 2802 Walker Clarity Phones Identix Live Scan SyTech RIOS CamLite Model 1000
CamLite Accessories Trade Shows Returns & Policies Contact Us PrivacyHeadset Demo Program
History of Bluetooth 9-1-1 & VoIP Cordless Headset Shootout Emergency Charge System
Fire Sale Specials Aviation Headsets How to Recycle Electronic Items