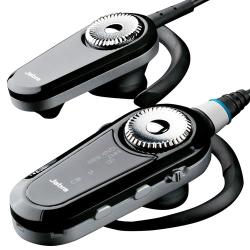 Back

Jabra BT8010 Mono/Stereo Bluetooth Headset $129.95


Work and Play with the versatile, high performance Jabra BT8010 Bluetooth® Headset! Mono headset lets you make and take ultra clear cell phone calls wirelessly up to 33 feet… then attach the stereo headset to enjoy great sounding music on the same line!

Optimize productivity at work with the Jabra BT8010 mono headset's long-lasting comfort, ease of use, and DSP technology that reduces background noise and automatically adjusts volume control. Then, when the workday's done, plug in the stereo unit, switch to music mode, and kick back with your favorite tunes on your music player. Need to take a call? Simply tap the mode button to switch instantly between music and phone modes. Enjoy up to 10 hours of talk time and 6 hours of music streaming on a single battery charge, and such advanced features as a 30 contact phone book and a call list feature for accessing the last 15 incoming calls. Use the included USB cable to download the BT8010 Control Center PC software for creating and organizing your phone book, selecting a preferred language, and updating firmware.

This feature loaded headset takes you through your whole day, from work to play…

Mono headset converts to stereo — transitions your mono headset for work into a top performing stereo headset for enhanced music listening on the same line.

Superior audio quality & voice clarity — uses Digital Signal Processing (DSP) technology for advanced noise cancellation so that incoming callers can hear you more clearly; automatic volume control increases listening level to compensate for noisy environments.

Up to sixfoot wireless range — allows you to talk or listen to music while roaming with both hands free.

Up to 10 hours of talk time and 6 hours of music streaming — plus 300 hours of stand-by on a single battery charge. Internal battery may be charged with AC power supply or via your PC using the included USB cable.

Simple, intuitive controls — include an easy-to-read OLED scrollable display and jog wheel controls to personalize your headset with contacts and personal music settings.

Advanced functionality — includes call list feature that accesses the last 15 incoming calls for convenient callback, a 30 entry phone book that allows you to make calls from your headset, and adjustable settings for custom configuring such features as vibrate alert, display, brightness, preferred language, and more.

MultiPoint™ connections— allows you to connect your headset to any 2 Bluetooth devices at once, such as both your personal and business cell phones.

Lightweight and comfortable — both units weigh a total of just 1.3 ounces and may be worn on either ear for optimum comfort by rotating the earhook 180 degrees.

Bluetooth v2.0 compatible — supports A2DP (for music playing) and AVRCP (for remote control) as well as headset and hands-free profiles.

Supported phone dependent features — include reject calls, voice dialing, last number redial, call waiting, and hold.

Supported music-device-dependent features — include play/pause music, stop music, and skip track forward.


Jabra BT8010 Manual (PDF)

Jabra BT8010 SpecSheet (PDF)

Download Adobe® Reader® to view PDFs.
Companion Products
Jabra A120s Bluetooth Music Adapter
Your Jabra A120s is designed to work with any Jabra Bluetooth stereo headset such as the Jabra BT620s. The adaptor connects to most audio sources such as portable MP3 players, handheld gaming devices, computers etc. via a standard
3.5mm audio connector. read more...

Jabra A125s iPod Bluetooth Adapter
Transmit music wirelessly from your iPod to your Bluetooth Stereo Headphones with the Jabra A125s Bluetooth iPod Adapter. Just slot the A125s into the end of your iPod and start listening to your favorite tunes. read more...
Plx Headset Tour Plx Headset Tops Plx Amplifiers Plx Cordless Plx Mobile Plx Computer Plx Bluetooth
Plx Polaris Plx Telephones Plx Cushions Hooks & Buds Plx Cords & Cables Plx Cordless Accessories
Plx Value Packs & Voice Tubes Smart Gang Charger Sennheiser Headset Tour Sennheiser Headset Tops
Sennheiser Amplifiers Sennheiser Cordless Sennheiser Bluetooth Sennheiser Computer
Sennheiser Accessories Starkey Headset Tour Starkey Headset Tops Starkey Amplifiers Starkey Bluetooth
Starkey Accessories GN Headset Tour GN Headset Tops GN Amplifiers GN Cordless GN Computer
GN Bluetooth GN Accessories Accutone Headset Tour Accutone Headset Tops Accutone Amplifiers
Accutone Mobile Accutone Accessories Accutone Compatibility Guide 9-1-1 Dispatch Headsets Aastra 480i
Aastra 9110 Aastra 9112i Aastra 9116 Aastra 9120 Aastra 9133i GE Cordless Phones Motorola Ojo
Panasonic Cordless Phones Polycom Audio Conferencing Polycom Accessories RCA Cordless Phones
Vodavi Starplus 2802 Walker Clarity Phones Identix Live Scan SyTech RIOS CamLite Model 1000
CamLite Accessories Trade Shows Returns & Policies Contact Us PrivacyHeadset Demo Program
History of Bluetooth 9-1-1 & VoIP Cordless Headset Shootout Emergency Charge System
Fire Sale Specials Aviation Headsets How to Recycle Electronic Items